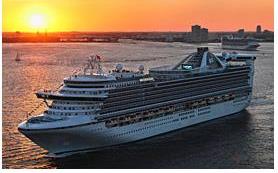 Santa Clarita, Calif. (PRWEB) March 20, 2012
Princess Cruises had the biggest booking day in its history for a new ship's inaugural season with the anticipated debut of Royal Princess. Opening the books on its 2013 Mediterranean season on March 15, sales for the new Royal Princess reached an all-time record for the most bookings of any ship's maiden season voyages.
"We're thrilled to see such enthusiasm for our new Royal Princess," said Jan Swartz, Princess Cruises executive vice president of sales, marketing and customer service. "The volume of bookings we received on Thursday is a testament to the huge support of the travel agent community, our loyal past passengers, and those first-time Princess cruisers excited to experience Royal Princess."
The ship's 12-day Grand Mediterranean cruises between Barcelona and Venice begin on June 23, 2013. Preceding these cruises, Royal Princess sails on her inaugural voyage, a seven-day Iberia cruise from Southampton to Barcelona departing June 16.
"Offering our newest ship on our most popular Europe itinerary, the Grand Mediterranean, has clearly proved popular with consumers and we'd like to thank everyone who has booked a cruise on the new Royal Princess," added Swartz. "The combination of an extraordinary onboard experience with these iconic European ports is sure to give passengers the cruise of a lifetime."
The 3,600-passenger Royal Princess is a new-generation ship currently under construction for Princess Cruises. Among the new features found on board will be a greatly expanded atrium, the social hub of the ship; the dramatic over-water SeaWalk, a top-deck glass-bottomed enclosed walkway on the ship's starboard side extending more than 28 feet beyond the edge of the vessel; plush private poolside cabanas that appear to be floating on the water; a dazzling water and light show; an expanded version of Princess' signature adults-only haven, The Sanctuary; and the popular poolside theater, Movies Under the Stars. Eighty percent of the ship's staterooms will feature a balcony. More information about the ship is available at http://www.princess.com/royalprincess.
Additional information about Princess Cruises is available through a professional travel agent, by calling 1-800-PRINCESS (1-800-774-6237), or by visiting the company's website at http://www.princess.com.
# # #
About Princess Cruises:
One of the best-known names in cruising, Princess Cruises is a global cruise and tour company operating a fleet of 16 modern ships renowned for their innovative design and wide array of choices in dining, entertainment and amenities, all provided in an environment of exceptional customer service. A recognized leader in worldwide cruising, Princess carries 1.3 million passengers each year to destinations around the globe ranging in length from seven to 107 days. The company is part of Carnival Corporation & plc .
Princess Cruises is a proud member of World's Leading Cruise Lines. Our exclusive alliance also includes Carnival Cruise Lines, Holland America, Cunard Line, Costa Cruises and Seabourn. Sharing a passion to please each guest and a commitment to quality and value, World's Leading Cruise Lines inspires people to discover their best vacation experience. Together, we offer a variety of exciting and enriching cruise vacations to the world's most desirable destinations.