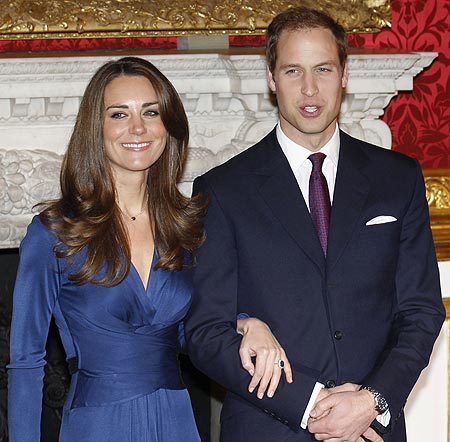 Passengers Can Watch the Future Princess Walk Down the Aisle with BBC World Coverage on "Movies Under the Stars" Screens
The highly anticipated Royal Wedding of Prince William and Kate Middleton will be televised live on Princess ships on April 29. Passengers will be able to follow along with full coverage of the pomp and majesty of the historic wedding through BBC World's broadcast of the event.
Not only can passengers follow along as the future princess walks down the aisle, but they'll enjoy viewing parties on board as they watch the most extensive coverage of this royal event. BBC is the official wedding broadcaster and has exclusive access inside Westminster Abbey during the ceremony.
The onboard viewing parties will add a celebratory flair to the event with British-style refreshments and special royal-themed cocktails. Passengers can also test their knowledge with royal wedding trivia competitions and participate in a William and Kate look-alike contest.
"As this is the first British royal wedding in years we know there will be wide interest among our passengers," said Jan Swartz, Princess Cruises executive vice president. "We at Princess also feel a connection with Prince William because his mother, Princess Diana, christened our original Royal Princess back in 1984."
Royal Wedding broadcasts are planned for all ships in the Princess fleet, subject to satellite availability. In some time zones the broadcast may be delayed for viewing at a convenient hour.
The Royal Wedding is one of several special events shown on the Movies Under the Stars screens, including the Super Bowl and the Academy Awards. The giant LED screens are more than 300 square feet in size with a 69,000-watt sound system and have sufficient lighting power to be seen clearly at mid-day and heard even while the ship is moving at full speed -- offering cruise passengers a movie experience comparable to the best shoreside movie theater.