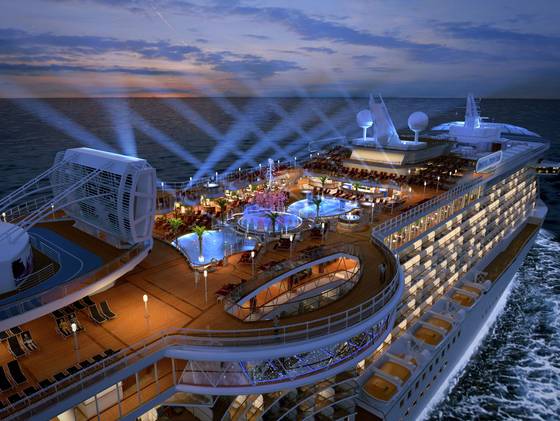 This item was written by Johanna Jainchill, who covers the travel industry for Travel Weekly. Jainchill is serving as Guest Editor of The Cruise Log while USA TODAY Cruise Editor Gene Sloan is away.
Princess Cruises' newest ship will feature a water and light show with dancing fountains, the latest of several new amenities to be featured on the vessel's top deck.
The 3,600-passenger Royal Princess will put on an interactive sound and light show featuring a computerized fountain with 85 water jets, shooting streams of water 33 feet into the sky. It will take place on the island Princess previously revealed would be built between two pools on the vessel's top deck.
The light and water show is the latest feature Princess has revealed about its upcoming newbuild's pool deck. The vessel will also have a glass-bottomed "SeaWalk" that will extend more than 28 feet off the side of the ship and 17 decks above the ocean , and its signature "Movies Under the Stars" pool-side movie screen will be 30% larger.
"We're placing even more emphasis on our outdoor entertainment options with this new ship," stated Jan Swartz, Princess Cruises' executive vice president. "With all of these exciting features on the top decks, passengers will truly enjoy their time under the sun - or stars."
Currently under construction in Italy, the 141,000-ton vessel Royal Princess is scheduled to debut in June 2013 as Princess Cruises' largest ever ship, and its first since 2008.