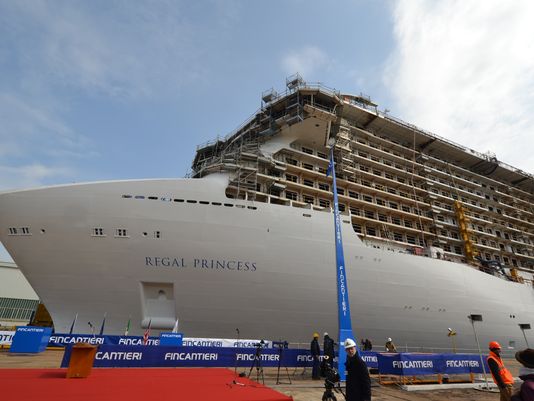 Princess Cruises' next ship, the Regal Princess, will debut nearly two weeks ahead of schedule.
The line on Thursday announced the first sailing of the 3,560-passenger vessel -- a sister to the four-month-old Royal Princess -- will kick off on May 20 instead of June 2 as previously scheduled.
The new maiden voyage will be a seven-night trip from Venice to Athens featuring calls in Corfu and Mykonos, Greece; and Istanbul, Turkey.
Also added to the ship's schedule was a six-night voyage from Athens to Venice that starts on May 27 and features calls in Kusadasi, Turkey (for the ruins of Ephesus); Santorini and Katakolon, Greece; and Dubrovnik, Croatia.
The line says construction of the vessel at a shipyard in Italy is running ahead of schedule.
The two new voyages can be combined into a 13-day "Grand Adventure" cruise or added on to the previously announced June 2 cruise to create a 20-day Mediterranean escape.
Under construction at a Fincantieri shipyard near Venice, the Regal Princess will be nearly identical to the four-month-old Royal Princess, which was christened in June by Britain's Duchess Kate. The vessels are nearly 20% larger than previous Princess ships and boast a number of new-for-line features (click through the carousel below for a glimpse of the Royal Princess' deck-top areas, cabins and more).
By Gene Sloan, USA Today
For more cruise news & articles go to http://www.cruisecrazies.com/index.html
Re-posted on CruiseCrazies.com - Cruise News, Articles, Forums, Packing List, Ship Tracker, and more