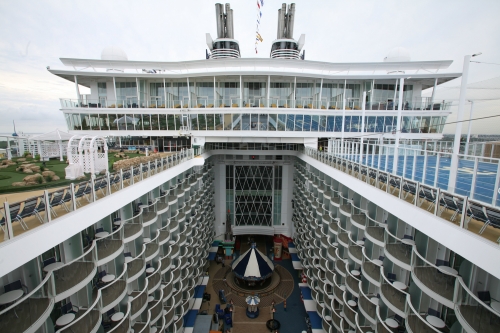 The Oasis of the Seas, currently the largest cruise ship in the world in addition to her sister ship, the Allure of the Seas, is an engineering marvel. The Discovery Channel has a magnificent one-hour segment focused on the Oasis and provides a fascinating behind-the-scenes look at the innermost workings of the ship. In case you missed this, here are 10 fun facts.
The ship features 23 unique restaurants, 16 swimming pools / whirlpools, and 2,704 passenger staterooms.

There are 28 two-story staterooms that start at $3,000 per night.

At a height of 18 decks, a weight of 225 gross tons, and a width of 208 feet, the Oasis is longer than 3 football fields end to end.

The main galley, which prepares the food for serving, spans 6 decks.

In one week, the Oasis will set sail with 8,000 chickens, 28,000 rolls, and 100,000 desserts.

With 2,950 toilets onboard, solid waste is incinerated into ashes.

An onboard desalinization plant provides all fresh water.

Approximately 12,000 pieces of luggage accompany the 5,000+ passengers in one sailing.

The ship is so large and carries so many passengers that it required construction of the largest cruise ship terminal in the world, located in Port Everglades / Fort Lauderdale, Florida.

The crew-only super highway that funnels food, services, and supplies to the 16 decks above stretches the entire length of the ship, and is appropriately called I-95.

Next week, the logistics of ending each cruise and beginning the next, will be detailed. Stay tuned.