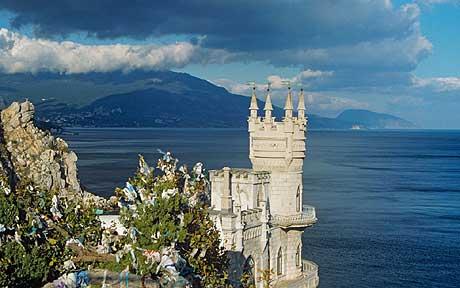 In June 2015, Rhapsody of the Seas will mark Royal Caribbean's first time in the Black Sea, offering vacationers three round-trip sailings, 10- and 11-night in duration, from Istanbul, Turkey. Guests will join the ship in making maiden port calls at Burgas, Bulgaria; Odessa, Yalta and Sevastapol, Ukraine; and Sochi, Russia, with overnight stays in Odessa, Sochi and Istanbul.
Rhapsody of the Seas' arrival at Istanbul will be preceded by a series of sailings that will reposition the ship from Sydney, Australia, to the Black Sea on Apr. 17, 2015. The ship will sail Australia's north coast to Singapore; follow the Indian sub-continental coast to Dubai; and transit the Suez Canal into the Mediterranean to arrive for the summer season on June 1.
From July to mid-November, Rhapsody of the Seas will homeport at Rome (Civitavecchia), Italy, and sail 7- to 11-night Greece and Turkey itineraries. The 7- and 9-night itineraries focus on smaller ports such as Katakolon, Thessaloniki, Mykonos, and Santorini in Greece; and Bodrum, Turkey. Rhapsody of the Seas will then reposition to Sao Paolo, Brazil, for the winter season on a Royal Caribbean trans-Atlantic Ocean Voyage, departing from Barcelona, Spain, on Nov. 19.
Rounding out Royal Caribbean's summer 2015 Europe season, Splendour of the Seas will return to homeport at Venice, Italy, for the 10th consecutive summer season, and sail 7-night Adriatic and Greek Isles round-trip itineraries for an extended season through November. A special 12-night itinerary from Barcelona to Venice will kick off the season and sail on May 4 to the French and Italian rivieras as well as Dubrovnik and Split, Croatia.
By Teijo Niemelä, Cruise Business Review
For more cruise news & articles go to http://www.cruisecrazies.com/index.html
Re-posted on CruiseCrazies.com - Cruise News, Articles, Forums, Packing List, Ship Tracker, and more