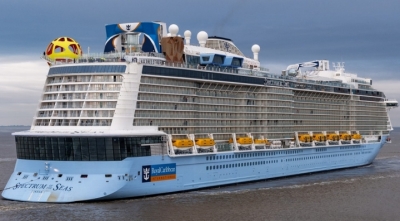 Lights out after dark, curtains and shutters closed, exterior decks restricted and armed security guards patrolling the ship - how brand new $960-million Spectrum of the Seas mega cruise ship is protecting itself against pirates on the way from Europe to the Middle East
A brand new US $960-million cruise ship on its way to Dubai has ordered passengers to avoid exterior decks, turn off lights at night and has boarded an elite UK security team as she approaches the pirate-infested waters of the Gulf of Aden.
Spectrum of the Seas, launched last week, is on a repositioning delivery cruise from Germany, where she was built, to China, where she will be deployed year-round.  The first leg of the voyage is a two week cruise from Europe to Dubai, but it requires transiting the most dangerous waters in the world for piracy, the Gulf of Aden.
"The promenade deck has been closed to passengers until May 2nd, all curtains have to be closed to night with lights out after dark," a passenger currently on the ship told Cruise Arabia & Africa.
"Today we held a Safe Haven drill, the code word for a pirate attack, during which all passengers have to assemble within the ship, away from windows and external doors," she added.  Spectrum of the Seas also took on-board additional security, in the form of three armed security officers who have just safely ensured Explorer of the Seas got through the Gulf of Aden safely.
Both ships are owned by Royal Caribbean International, the second-biggest cruise line in the world.  Explorer of the Seas departed Dubai in April bound for Europe. Now, it's Spectrum of the Seas' turn to run through the pirate-prone waters.
"One other security officer was already onboard – we've been told all are top security officials from Britain," said the passenger. Spectrum of the Seas is the newest cruise ship in the Royal Caribbean fleet, having been launched just a few weeks ago. She will be one of the largest and most advanced ever to cruise from Dubai.  At 169,379-gross tons and carrying 4,905 passengers at maximum occupancy, with a bionic bar staffed by robots, a virtual reality bungee experience, sky dive simulator and North Star viewing pod, she would be a tempting target for any pirates off the coast of Somalia.
Fortunately, however, the threat of an attack on a cruise ship in the Gulf of Aden is now much reduced thanks to an international naval coalition.
By Logistics Middle East
Re-posted on CruiseCrazies.com - Cruise News, Articles, Forums, Packing List, Ship Tracker, and more
For more cruise news and articles go to https://www.cruisecrazies.com