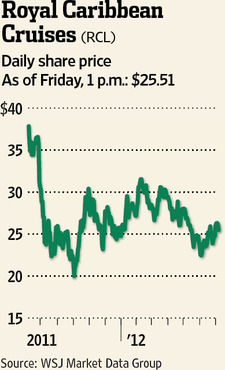 Royal Caribbean Cruises, the world's second-largest cruise-ship operator, could see smoother sailing next year.
The company's shares (RCL) have fallen about 50% since the start of 2011, and recently docked at $26.
Business has been hurt by a sluggish economy and the wreck in January of Carnival's Costa Concordia off the Italian coast. As a result, cruise lines have been forced to discount prices to fill ships.
Royal Caribbean expects about two more quarters of weakness before demand starts to rebound and prices begin to firm. The company also is expected to benefit in 2013 from falling fuel prices and the delivery of fewer new vessels throughout the industry.
Longer-term trends also bode well for Miami-based Royal Caribbean. Fewer than 4% of people in the U.S. and Canada have taken cruise vacations, suggesting a huge potential market—especially as baby boomers enter their retirement years.
Rising affluence in emerging markets is another plus. Royal Caribbean is moving a second boat to China this year to take advantage of growing demand in the region.
At current levels, Royal Caribbean's shares look cheap. Given next year's rosier outlook, some analysts see the stock rising to the mid-$30s.
Ann Miletti, a senior portfolio manager at Wells Fargo Advantage Funds, estimates that Royal Caribbean has a break-up value of $42 a share, which could rise to $44 next year.
Her estimate takes into account several measures, including how much it would cost the company to replace its ships. Ms. Miletti expects the cruise operator's earnings to rise next year, and notes that a rebound in the economy could be good for Royal Caribbean's business and its shares. Royal Caribbean has "the newest fleet in the business, which should attract market share," she says.
After several years of borrowing to buy new ships, Royal Caribbean will be paying down debt in coming years. The company is expected to earn a higher credit rating as a result, which means it will be able to borrow more cheaply.
Royal Caribbean stopped paying dividends during the financial crisis in 2008, but resumed payments last year and now pays an annual dividend of 40 cents a share. The stock yields 1.5%.
After a difficult stretch, Royal Caribbean looks to be on the mend. As earnings rise and debt falls, expect investors to book another cruise.
By Jacqueline Doherty, The Wall Street Journal