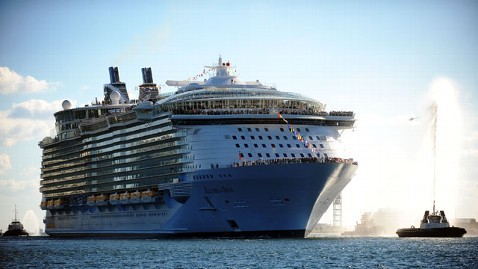 The U.S. Coast Guard is searching for a 21-year-old female cruise-ship passenger who officials say fell overboard Sunday night.
The ship Allure of the Seas was sailing to the Bahamas when a passenger reported seeing another passenger go overboard, according to a statement from Royal Caribbean Cruises.
The ship immediately stopped, turned around and alerted U.S. and Bahamian Coast Guard officials.
Crew members began a complete search of the ship and marked its location on GPS. Two other ships nearby began aiding the search until the Coast Guard took full control. About 320 square miles of open water have been searched, to no avail.
Video from cameras on board the ship show the unnamed Tennessee woman falling off the ship.
The Coast Guard has a ship, helicopters and aircraft, including a C-130, involved in the search, and will deciding this evening what to do next after several searches have yielded no traces of the passenger.
In a statement to ABC News, Royal Caribbean wrote, "Royal Caribbean's Care Team is providing support to the guest's family and our thoughts and prayers are with them."
The Allure of the Seas missed its scheduled stop to the Bahamas, but is now back out to sea and is scheduled to arrive in St. Thomas, as scheduled, Wednesday.
By Seni Tienabeso, ABC News