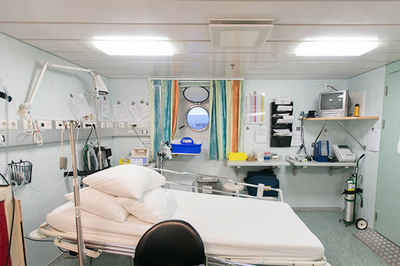 The New Jersey couple says they have been on multiple cruises over the years, but none were quite like the one they went on to Mexico. 
Carol and Bertram Palk claim personnel aboard Royal Caribbean's Allure of the Seas told them to get off the ship since their medical staff could not treat Carol's internal bleeding, CBS News reports.
The couple says they were forced to pay thousands of dollars to get back to the United States on their own. 
Carol and Bertram were on a January cruise that went from Miami to Costa Maya, Mexico when Carol says she suddenly started feeling ill and sought medical attention on board.
"He told me I could have a heart attack or I could bleed out ... and I need a blood transfusion and they had no facilities to do a blood transfusion so he wanted me to get to a hospital," Carol said. "The doctor said 'we're kicking you off the ship' and those were his words." 
The cruise company reportedly arranged transportation for the couple, but the Palks say they had to pay for it. They took a five-hour cab ride to Cancun before flying to Mexico City and buying plane tickets for New Jersey.
The couple says they paid $4,000 in total for a homeward bound trip that took around 24 hours. Carol has since been treated at the hospital for ulcers which caused the bleeding.
Royal Caribbean has denied kicking the couple off the cruise. The couple says they were given a reimbursement of $157 each, with 20 percent off their next cruise. The couple says they just want an apology.
In a statement to CBS News, Royal Caribbean wrote: "Our onboard medical team initially treated the guest in our medical facility, then determined that, for the guest's health and safety, additional medical attention was needed that could best be provided by a hospital in the area. The guest declined our professional medical recommendation to seek immediate local care and decided instead to return home."
By 10News Staff and CBS News
Re-posted on CruiseCrazies.com - Cruise News, Articles, Forums, Packing List, Ship Tracker, and more
For more cruise news and articles go to https://www.cruisecrazies.com