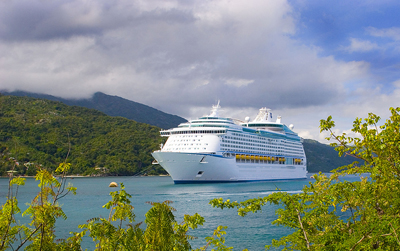 LABADEE, Haiti — More than two years after a powerful earthquake killed 230,000 people in Haiti and left many more homeless, the Caribbean country continues to battle despair — yet one tiny peninsula on the country's north coast serves as a tropical oasis for travellers and an example of the tourism potential Haiti has to offer.
Labadee draws more than 600,000 visitors a year because of Royal Caribbean Cruise Lines.
In 1985, the cruise line decided to lease the peninsula to give passengers a private beach destination as part of their western Caribbean cruises.
Since then, the company has added a large pier for their huge cruise ships, along with all the infrastructure and excursions to provide visitors with a day at the beach.
It's a stark contrast to the tent cities and desperate conditions faced by hundreds of thousands of Haitians still trying to recover from the 2010 earthquake that devastated much of the country, particularly the capital of Port-au-Prince.
International aid agency Oxfam has blamed government indecision for keeping Haiti's recovery on hold. Haiti has a population of more than 9.7 million people.
The country has a history of political violence including a coup in 2004 that forced the resignation and exile of president Jean-Bertrand Aristide. The current president, Michel Martelly, was elected in 2011.
"Years ago in the industry, we used to send people to Haiti," said Ellen Tucker of Freedom Tours in Saint John, N.B. "In fact, there was a very well known Club Med there that we sent a lot of people to."
Tucker says tour operators hope there could be potential for tourists to travel to Haiti in the future.
"Haiti is absolutely beautiful, but of course we all know the turmoil they're going through now," she said.
"It has made it a place that isn't quite right for visitors just yet. But we hope it will be once again."
For cruise ship passengers arriving in Labadee there's no indication of the problems elsewhere in the country.
Instead, they're greeted by warm, blue waters, and a backdrop of mountains and lush forests.
By Kevin Bissett, The Canadian Press