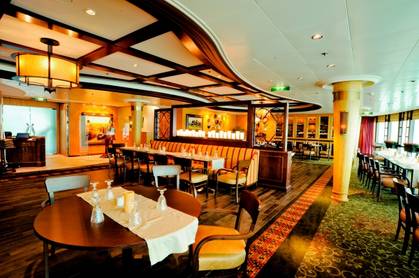 Royal Caribbean says new eateries are on the way for its 2,100-passenger Serenade of the Seas, which is scheduled for a makeover in December.
The 9-year-old vessel will get an Italian eatery called Giovanni's Table and an Asian eatery called Izumi as well as a new "chef's table" dining experience.
All three concepts debuted in recent years on Royal Caribbean's new Oasis Class ships and are slowly rolling out to older vessels.
Royal Caribbean says Serenade of the Seas passengers will be able to buy a package that includes dinners at Giovanni's Table, Izumi and the ship's steakhouse, Chops Grille, for $55 per person. A second package that costs $130 per person will add the chef's table experience to the mix.
Royal Caribbean also plans a discount offer at Giovanni's Table that will give a $30 beverage credit to groups of four or more that book a table during the first two nights of a sailing. A second offer will give groups of eight or more that book a table on the first night of a cruise a discounted $14-per-person rate. The eatery normally costs $20 per person.
By Gene Sloan, USA Today