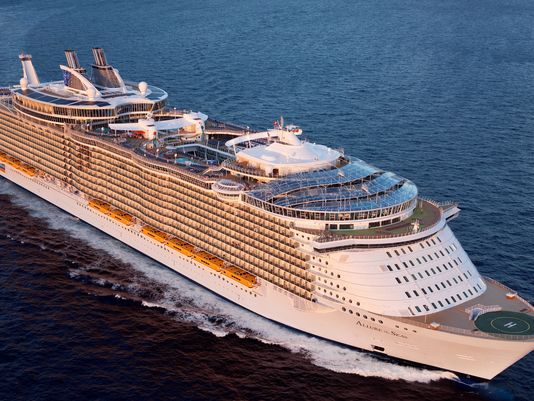 Royal Caribbean's Allure of the Seas, the world's largest cruise ship, is experiencing a problem with a propulsion unit that is forcing it to operate at slower-than-normal speeds.
The mechanical issue with one of the 225,282-ton vessel's three propulsion "pods" has resulted in shortened calls in ports during its past two Eastern Caribbean sailings.
In an email to USA TODAY, Royal Caribbean spokeswoman Cynthia Martinez suggested the problem is relatively minor, saying the pod in question remains functional but not at 100%.
"Allure of the Seas currently has a small restriction on her top speed," Martinez says. "All equipment is fully operational, and there is no impact on the maneuverability of the ship or on the safety of our guests and crew."
Martinez says Allure of the Seas has shortened its stays in Nassau, Bahamas and Charlotte Amalie, St. Thomas on Eastern Caribbean sailings due to the issue, but there have been no changes to the ship's Western Caribbean itinerary.
There's no word yet on how or how soon the problem will be resolved.
"We are currently exploring various options that would fix the problem," Martinez says. "The plan is to get Allure back up to top speed. At this time, we have not made sweeping changes to upcoming itineraries."
Allure of the Seas is just the latest in a string of cruise ships that have experienced problems with pod propulsion units since they first began appearing on cruise vessels in the 1990s. Just three months ago, Celebrity Cruises' 2,138-passenger Celebrity Millennium experienced a pod malfunction that resulted in the cancellation of several voyages.
Pod propulsion systems are more efficient than conventional propulsion systems but can be more difficult to repair at sea. In the case of the Celebrity Millennium, the ship eventually was taken out of service for several weeks in late August and September to undergo repairs in a dry dock.
Unveiled in 2010, Allure of the Seas can carry more than 6,000 passengers and has a crew of more than 2,000 people. The ship is one of two Oasis Class vessels at the line that jointly hold the record for world's largest cruise ship (for a look inside an Oasis Class vessel, click through the carousel below).
By Gene Sloan, USA Today
For more cruise news & articles go to http://www.cruisecrazies.com/index.html
Re-posted on CruiseCrazies.com - Cruise News, Articles, Forums, Packing List, Ship Tracker, and more