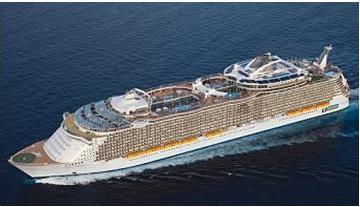 Royal Caribbean Cruises, Ltd. has signed a letter of intent with German shipyard Meyer Werft to build the first of a new generation of Royal Caribbean International cruise ships. Developed under the code-name "Project Sunshine," the new vessel design incorporates new and exciting features that take advantage of the best of Royal Caribbean's experience and imagination. The project is a result of over a year of dedicated research and development.
The order calls for one ship to be delivered in the Fall of 2014 with an option for a second ship for Spring 2015. The 158,000 Gross Registered Tons (GRT) new build will carry just over 4,100 guests based on double occupancy. The estimated all-in cost per berth is about €170,000. This all-in cost includes the yard's base contract price plus everything needed to design, operate and build the vessel, from architect fees to supervision costs and all loose inventories from computers to art and bed linens.
"Royal Caribbean has worked hard to earn a reputation of offering the most innovative ships in the cruise industry and this next generation will not disappoint," said Richard D. Fain, Chairman and CEO of Royal Caribbean Cruises, Ltd. "While we continue our policy of keeping our newest ideas and features under wraps during the early stages of construction, I can say that I am very excited about the passion and imagination that our teams have devoted to the project. Project Sunshine builds on the best ideas of our existing ships and adds exciting new activities and entertainment concepts. It will offer features for everyone: from grand, spectacular spaces to small intimate settings; from active, invigorating activities to the serenity of more personal space; and from a plethora of dining alternatives to a cornucopia of opportunities for families. I am also excited about the energy efficiency and environmental technologies which have been incorporated."