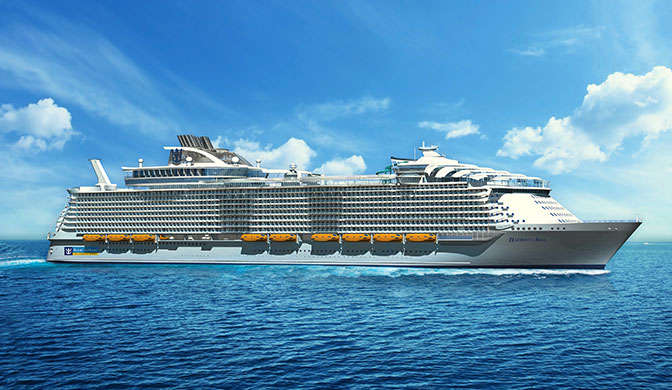 Royal Caribbean International today announced new 2016 Europe vacations, totaling eight of the region's cruise ships that will sail from six European homeports and call at 80 destinations in 27 countries throughout the Mediterranean, Canary Islands, Scandinavia and the Baltic.
Four of the Europe ships will be new to the region, and Royal Caribbean's third Oasis-class ship, Harmony of the Seas, will sail its inaugural season from Barcelona, while Independence of the Seas returns to Southampton.
The Explorer of the Seas will make history as the largest cruise ship to ever sail in Alaska, and join Radiance of the Seas for the cruise line's 27th consecutive season in the region.
After its delivery in May 2016 the Harmony of the Seas, will homeport at Barcelona and sail a round-trip, seven-night Western Mediterranean itinerary. Vacationers also can embark Harmony of the Seas at Rome (Civitavecchia), but guests must sail round-trip for seven nights.
Brilliance of the Seas also will alternate 12-night Italian Mediterranean and Greek & Italian Mediterranean cruises.
The U.K. welcomes back Independence of the Seas in summer 2016. The ship will sail mostly 10- to 14-night Mediterranean or Canary Island cruises from Southampton, while Navigator of the Seas will offer British vacationers a wide range of new six- to 14-night Norwegian Fjords, Baltic, Mediterranean or Canary Island itineraries.
Serenade of the Seas will sail seven-night Norwegian Fjords and seven- to 13-night Scandinavia and Russia itineraries, round-trip from Copenhagen, Denmark, in early summer and August, and from Stockholm, Sweden, in June and July.
Jewel of the Seas will alternate brand new 10-night Greece & Adriatic and 11-night Greece, Turkey & Croatia itineraries from Venice, while Vision of the Seas will alternate seven-night Greek Isles and Greek Isles & Turkey cruises. Jewel of the Seas will double the cruise line's capacity at this unique, iconic and most desirable world-class city.
Rhapsody of the Seas will homeport at Rome (Civitavecchia) and sail nine-night Greek Isles cruises in early summer and autumn months. From late June through August, the ship will alternate seven-night Greek Isles and Greek & Turkey cruises.
Explorer of the Seas will meanwhile debut in Alaska. Guests on the ship's seven-night round-trip itineraries from Seattle, Wash. In September, the ship will sail three Pacific Coastal cruises, seven nights in duration, which feature an overnight in San Francisco, Calif.
The Radiance of the Seas will alternate seven-night northbound and southbound Alaska cruises between Vancouver, B.C., and Seward. On these itineraries, guests will venture into Disenchantment Bay for a close-up view of Hubbard Glacier.
Source: Cruise Industry News, March 12, 2015
Re-posted on CruiseCrazies.com - Cruise News, Articles, Forums, Packing List, Ship Tracker, and more.
Please visit CruiseCrazies.com for more cruise news & articles.
Featured photo credit: Royal Caribbean