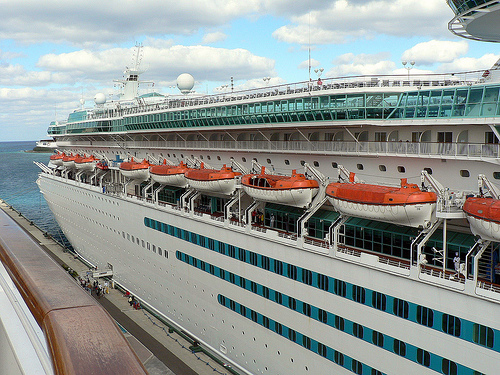 We've all heard of the airlines bumping passengers onto alternate flights due to overbooking, right? But cruise lines doing the same thing? In what may very well be the first report of such an occurrence, one of our very own members, zebra, has returned from a cruise and is sharing her story. The purpose of this article is not to stir the pot or point blame, but to (1) Make you aware that this can happen to you, and (2) Raise awareness in the hopes that this does not become a trend within the cruising industry. Here's the complete un-edited account, courtesy of zebra....
We have booked many cruises with RCCL and they have become our cruise line of choice. This article is simply a warning to ALL cruisers that this too could happen to them.
Tony had a certain week available to be off work, so we made a last minute (13 days before sailing) booking on Monarch of the Seas on June 11th out of Port Canaveral. We were told that it had to be a guaranteed cabin at this late stage, we were fine with that. We liked the fact that it was a 4 day cruise to the Bahamas and also that it had one sea day, which we love, as we can just kick back and relax.
Four days before sailing I checked the website and confirmed we still had a guaranteed cabin but had not yet been allocated a specific one yet, which I needed in order to print out our Set Sail pass and luggage tags.
The next day I received a phone call from Royal Caribbean telling me that they are sorry but this cruise has been overbooked and we have 3 options:
1) We could change our booking to the Majesty of the Seas which sails on exactly the same dates but out of Miami. They would upgrade us to an oceanview (18 inch porthole) on Deck 2 and give us a $100 onboard credit.
2) We could stay with Monarch of the Seas but would have to choose another date - The same upgrade and OBC would apply.
3) They would fully refund our money.
At NO TIME were we offered to be able to stay on our cruise of choice - Even when I asked them to repeat ALL our options.
I was blown away ... had NEVER heard of this happening on the cruise lines. I called my husband at work to choose one of the options. He said we will have to go with option No. 1 because that's the only week he can get off and because he needs the break he didn't want a refund. I called them and the reservation was changed to Majesty of the Seas, June 11th out of Miami.
The unfortunate thing is that we like to cruise out of Port Canaveral because it is only 2 hours away with no major traffic problems along the way. Now our new choice was 5-6 hours away with mega traffic problems in Miami. So being 3 times the distance it would also cost us three times the amount in gas and expenses to get to the port. Another thing was that the port parking garage in Miami charges $20 per day and opposed to $15 per day in Port Canaveral.
After speaking to others we realized that RCCL had not offered us enough to make this worth our while. So I called the RCCL Resolution Department. The first disconcerting thing that they told me was that on our file NOTHING had been noted with regard to who had called us - only that we had chosen option No. 1. Immediately the Resolution specialist gave me another offer. The same upgrade and $300 OBC. I accepted but told them that this was a totally unacceptable practice offered by their Head Office and certainly not a way that loyal Diamond members of their product should be treated ... In fact not a way that any cruiser should be treated.
I might add - It took us 6 hours to get to Miami battling peak hour traffic along the way. It's for this main reason that after all our years of cruising plus after 25 cruises we have never cruised out of Miami. Also, the UPGRADE was not really an upgrade. The cabins on these older ships are really tiny, the square footage was the same on both inside and outside, the only difference was a small porthole. The other issue was that the Majesty did not have a sea day! They had an additional port .... Key West. While this would be great for cruisers from up North, don't forget we are Floridians and have been to Key West many times before, we would definitely have preferred a sea day.
We were determined to have a good time when we eventually cruised and thoroughy enjoyed the Majesty of the Seas, the staff, and everything on our cruise.
We are merely posting this to warn all cruisers to be on the lookout that this not only happens on airlines but is now also happening on cruiselines ..... -
Zebra, CruiseCrazies Member
How do you think Royal Caribbean handled this situation? Do you think the cruise line could have offered more? Let's hear it in your comments below!