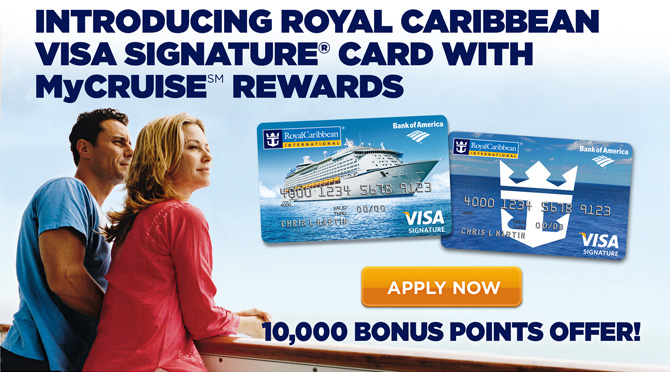 Groundbreaking card benefits now to include ability to earn and redeem points on three brands: Azamara Club Cruises, Celebrity Cruises, Royal Caribbean International
Royal Caribbean Cruises Ltd. and Bank of America today announced the multi-year renewal of their affinity partnership and the launch of new credit cards that will offer unique benefits created for enthusiasts of the Azamara Club Cruises, Celebrity Cruises, and Royal Caribbean International brands.
"MyCruise Rewards," one of the most unique new features of the cards, introduces a cruise-industry first: it gives cardmembers the ability to redeem points not only with the cruise brand that they choose for their affinity card, but also across the other two brands in theRoyal Caribbean corporate family. Through MyCruise Rewards, cardholders can earn discounts on cruise-related packages and redeem points for cruises, stateroom upgrades, specialty gifts, and onboard credit across all three cruise lines. The new cards provide double points for purchases on Azamara, Celebrity, and Royal, and one point for every dollar spent on all other purchases.
"We deeply appreciate our Celebrity Cruises loyalists, and are excited to once again offer a Celebrity affinity credit card, one that provides greater value and flexibility than ever before, including the opportunity to earn and redeem points across all three of our award-winning brands," said Lisa Kauffman, Vice President, Marketing, Celebrity Cruises.
Consumers can choose from a variety of benefits, as each of the new cards offers special features. More information on the features of each brand's cards, including rates and fees, is available on the following sites:
"We know how important choice is to our guests, so the new cardmember benefits introduce a variety of rewards, such as more than 100 redemption options, making it easy and fun for our guests to enjoy flexibility as they treat themselves while vacationing with our brands," said Carol Schuster, Senior Vice President, Marketing, Royal Caribbean International.
"We're pleased to build on our long-standing affinity partnership with the brands of Royal Caribbean Cruises Ltd.," said Jeff Norwine, Affinity Banking Executive for Bank of America. "These new cards are designed to resonate with cruise aficionados by providing rewards that complement their lifestyle and interests."
The new cards also expand a points-donation option. Now, cardmembers can choose to donate the cash value of their points to each of the brands' nonprofit partners: Celebrity Cruises supports The Breast Cancer Research Foundation®, and Royal Caribbean International is aligned with Make-A-Wish Foundation. The cruise lines support these organizations in a variety of ways year-round.
Some restrictions apply; complete details can be found online.
By Royal Caribbean Cruises Ltd.
For more cruise news & articles go to http://www.cruisecrazies.com/index.html
Re-posted on CruiseCrazies.com - Cruise News, Articles, Forums, Packing List, Ship Tracker, and more