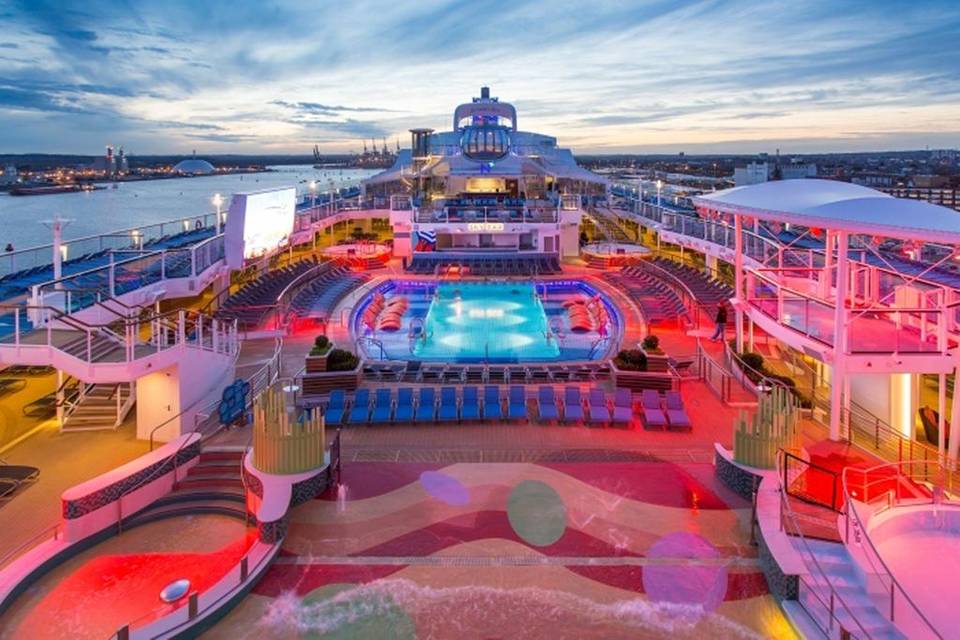 Is fire-sale pricing on cruise ships going the way of the midnight buffet?
On Monday, the head of Miami-based Royal Caribbean Cruises said his company had adopted a policy in March to do away with last-minute booking discounts on cruises longer than two- to four nights in North America. He said depending on the type of cruise, "last minute" might be 10, 20 or 30 days from the sailing date.
Richard Fain, chairman and CEO of the world's second-largest cruise company, called the long-held practice "disruptive" to loyal customers and travel agents during a conference call on first-quarter earnings. He and other executives spoke from the company's newest ship Anthem of the Seas, which launched in Southampton, England, last week.
"We think that getting our customers out of this used-car salesman kind of mentality will be overall good for the brand, good for their experience," he said.
The revelation came during a mixed report. The company said first-quarter earnings of 20 cents per share were better than the expected 10 to 15 cents a share. But Royal Caribbean also lowered its full-year outlook from $4.65-$4.85 a share to $4.45-$4.65 per share due to the impact of the stronger dollar and higher fuel prices.
For the quarter that ended March 31, the Miami-based company reported profits of $45.2 million, up more than 70 percent year-over-year.
Revenue dipped from nearly $1.9 billion in the first quarter of 2014 to $1.8 billion this year, due in part to a drop in onboard spending by non-U.S. guests. The company said that since most onboard sales are priced in U.S. dollars, the strengthening of the currency has led international guests to spend slightly less during their sailings.
Shares of the company, which owns brands including Royal Caribbean International, Celebrity Cruises, Azamara Club Cruises and a handful of European lines, fell 8 percent to $72.71 at Monday's close.
The new pricing strategy has not been in place long enough to have a measurable impact, Fain said, but he said there could be a negative impact in the short term because guests who would have been driven by late discounts would not have incentive to book.
"Obviously, the reason that we have been doing last-minute discounts is because the ship wouldn't otherwise be absolutely full, and so while the number is small, we've used it to top up," he said. "There's less topping up, so you don't get the revenue from those last passengers. It may take a little while for travel agents and consumers to understand just how serious we are about this."
Other cruise line executives have described efforts to maintain "price integrity" in recent months. Carnival Corp. President and CEO Arnold Donald said in June of last year that the company was making a concerted effort to hold prices in a couple of markets. In February, Norwegian Cruise Line Holdings President and CEO Frank Del Rio said the company was pushing value-added promotions for the Norwegian Cruise Line brand rather than trying to stimulate demand with lower prices.
In a note to investors, Morningstar analyst Jaime Katz said that the new program is the right approach to pricing.
"This isn't the first time we've heard a cruise company take this stance...and we believe it is a strategy that will benefit the industry overall," she wrote. "Offering deployments and marketing these choices earlier will help prevent aggressive discounting as the sailing date approaches, bolstering brand perception and supporting higher prices over time."
By Hannah Sampson, Miami Herald
For more cruise news & articles go to http://www.cruisecrazies.com/index.html
Re-posted on CruiseCrazies.com - Cruise News, Articles, Forums, Packing List, Ship Tracker, and more