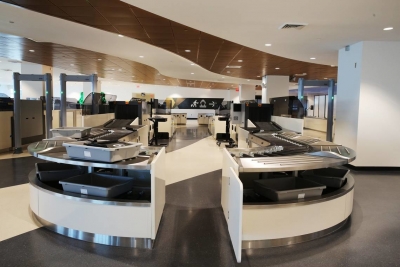 The world's largest cruise ships finally have a place to park in Miami.
Dubbed Terminal A, the newest addition to PortMiami will be able to accommodate Royal Caribbean's massive Oasis-class ships and get all 5,500-plus passengers boarded in record time. Previously, the ships — named for the cruise line's Oasis of the Seas — sailed from PortEverglades in Fort Lauderdale.
"We are excited to be adding this beautiful building to the Miami skyline," said Chairman and CEO of Royal Caribbean Cruises Ltd., Richard Fain, who is celebrating 30 years with the company.
From the causeway, the new terminal resembles a ship itself with an angular, glass structure. At night, its three stories of floor-to- ceiling windows glow from interior lights. Global architecture firm Broadway Malyan spearheaded the design for the terminal, which took a little over a year to build.
The building's technology and design aim to avoid long passenger lines. Guests check their luggage at the curb and pass into an enormous entry way with 30-foot-high ceilings. Escalators rise to the second level, where two golden propeller blades — larger than life and weighing 14,300 pounds — rotate 56 feet in the air. Interior spaces fitted with terrazzo floors and hanging LED candles feel more like a hip hotel than a processing space.
But passengers won't have much time to linger. They move quickly on to security, where the luggage conveyors are automated to speed up the process.
Prior to sailing, cruisers can upload a selfie and passport information, enabling Customs and Border Protection's facial recognition software to quickly process passengers. (This slims the time from curb to cabin from 20 to 10 minutes.) The technology has also shaved an hour off the typical disembarking process, Fain said.
Currently, 750,000 Royal Caribbean passengers use its existing Miami terminal each year. The company expects to welcome two million passengers per year now thanks to the new terminal and will continue to use its existing Terminal G for Royal and Celebrity ships.
Royal Caribbean's Symphony of the Seas and Allure of the Seas, two of the largest cruise ships in the world, will begin sailing from Terminal A later this month. Symphony previously launched in Europe earlier this year, and Allure has sailed from Port Everglades in Fort Lauderdale, which has been able to host Oasis-class ships since 2009. Royal Caribbean's Terminal G fits only ships that are 1,000 feet long; Symphony and Allure clock in at nearly 1,200 feet and can hold around 5,500 passengers at double occupancy.
The $250 million terminal was a partnership between Miami-based Royal Caribbean and Miami-Dade County, home to the world's busiest cruise port. The cruise line funded construction; and the county provided around $15 million in infrastructure support. Royal Caribbean will pay the county $9.5 million per year to rent the land.
"Place looks pretty good, huh?" said Fain to applause. "You've proved that this county can be a place to get an ambitious job done."
By Taylor Dolven, Miami Herald
Re-posted on CruiseCrazies.com - Cruise News, Articles, Forums, Packing List, Ship Tracker, and more
For more cruise news and articles go to https://www.cruisecrazies.com