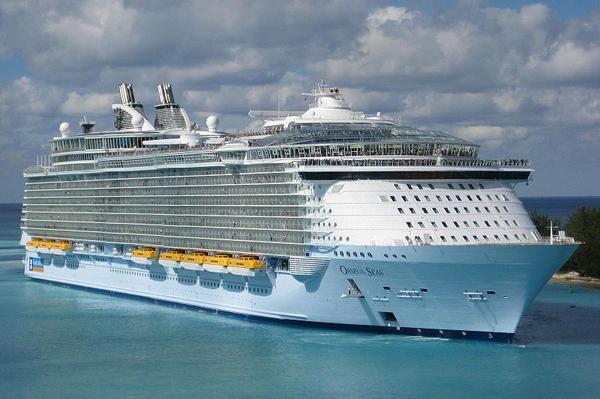 Slated for delivery in 2018, a fourth Oasis-class ship may be added to Royal Caribbean Cruises Ltd.'s fleet of enormous cruises. The cruise line's executives announced the new ship orderFriday at a keel-laying ceremony for the third Oasis-class ship in Saint-Nazaire, France.
Launched in 2009, Oasis-class ships are the world's largest passenger ships. The fourth ship order is still subject to financing and documentation requirements. According to a press release, projected capital expenditures for 2014, 2015, 2016, 2017 and 2018 are $1.4 billion, $1.4 billion, $2.2 billion, $0.3 billion and $1.5 billion, respectively, taking into account this order and existing ship orders.
Two Oasis-class ships – including the ship executives announced today – are slated to join Oasis of the Seas and Allure of the Seas , which launched in 2009 and 2010 respectively.
Oasis-class ships have 16 decks with 2,700 staterooms. The ship includes a 'Central Park' with 12,000 live trees and plants.
Earlier this month, Travel Weekly reported Port Canaveral has the chance to be the home to Royal Caribbean's next Oasis-level mega-ship.
That would give Port Canaveral and Central Florida access to a ship with a passenger capacity of more than 5,400 passengers — nearly 2,000 more passengers than some of the Royal Caribbean ships currently docked there.
By Emon Reiser, Reporter - South Florida Business Journal
For more cruise news & articles go to http://www.cruisecrazies.com/index.html
Re-posted on CruiseCrazies.com - Cruise News, Articles, Forums, Packing List, Ship Tracker, and more