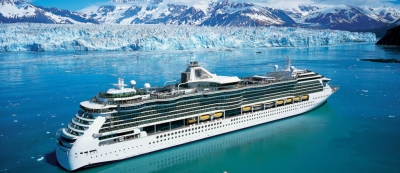 Royal Caribbean International's Serenade of the Seas is the first large cruise ship to sail into Alaska waters in nearly two years, on a test sailing required by the CDC to operate with a passenger vaccination rate of less than 95%.
The ship departed Seattle on July 7 and arrived in Ketchikan on July 9, marking the first large-ship port call of the 2021 Alaska cruise season. If the test sailing is successful, the Serenade will resume revenue sailings on July 19.
"It's a happy day for Alaska's tourism industry and communities that rely on tourism in Alaska," said Alaska Travel Industry Association CEO Sarah Leonard. "This short cruise season means the difference between reopening or closing for good for so many small, locally owned businesses. We are grateful to our congressional delegation, governor and legislators for their hard work to bring cruise ships back to the state this year."
The ship's arrival was celebrated by U.S. Senator Lisa Murkowski, Alaska Lieutenant Governor Kevin Meyer and Ketchikan Mayor Bob Sivertsen, who all spoke at an event hosted by CLIA.
"It was an all-hands-on-deck effort to find a solution to the 2021 cruise ship season and bring a much-needed economic boost to our communities," Murkowski said. "Today marks an important step toward Alaska's road to economic recovery from the pandemic."
CLIA concluded the program with a tribute to Murkowski for her leadership in the passage of the Alaska Tourism Recovery Act, which was instrumental in facilitating the return of cruise tourism in Alaska this summer. The legislation, sponsored by Murkowski and Alaska's other Republican senator, Dan Sullivan, relieves cruise ships sailing in Alaska of the Passenger Vessel Services Act restrictions for as long as Canada's cruise ban is in place. 
The Serenade is the first of nine large cruise ships that are scheduled to operate 78 Alaska sailings at reduced capacity through October, according to CLIA Alaska. Carnival Cruise Line, Celebrity Cruises, Holland America Line, Norwegian Cruise Line, Oceania Cruises, Princess Cruises, Royal Caribbean and Silversea will all sail ships to Alaska this summer, in addition to small-ship lines that have been operating since May.
According to the ATIA, cruise lines typically deliver more than half of Alaska's annual visitors, and Southeast Alaska had been expecting an estimated 1.44 million visitors traveling by cruise in 2020 to spend nearly $800 million in the region.
"We're seeing an increase in independent travelers already this summer, and that's excellent news for a lot of businesses. However, we know large cruise ships are also an important part to our tourism recovery," Leonard said.
This report was updated to include Senator Lisa Murkowski's comments and information about CLIA's tribute to the Alaska congressional delegation.
_____________________
SOURCE: Travel Weekly  (Johanna Jainchill, July 9, 2021); Photo Credit: Alaska Tour & Travel
Re-posted on CruiseCrazies.com - Cruise News, Articles, Forums, Packing List, Ship Tracker, and more
For more cruise news and articles go to CruiseCrazies.com