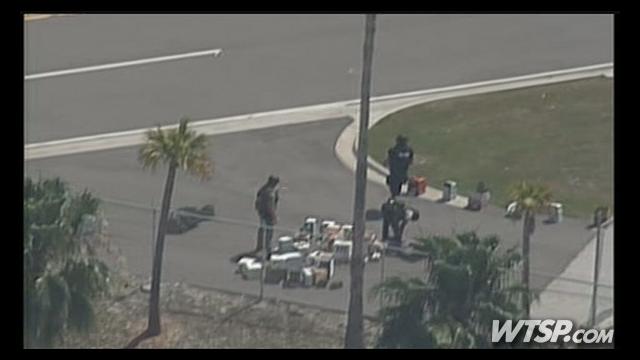 Tampa, Florida -- Fun times aboard the Royal Caribbean's Jewel of the Seas were delayed Thursday after bomb-sniffing dogs alerted on a pallet of liquor about to be loaded on the ship.
"A K9 unit alerted on a box, contained on a pallet that had been delivered from Miami," said Col. Jim Previtera of the Hillsborough Sheriff's Office.
Terminal 3 was evacuated and the area around the ship secured as bomb squad technicians wearing protective suits and their robots went to work.
Dogs also alerted on a truck of supplies from that same Miami warehouse and that cargo also had to be gone through piece by piece.
In the meantime, passengers eager to start their cruise to Cozumel waited for hours on the streets around the terminal. The Florida Aquarium let cruise passengers while away their time there for free. And while passengers tried to make the best of the situation, for some the discovery was a bit unsettling.
"It has because of what else is going on," said Sharon Alvarez of Tampa. "But we know whatever it is they'll search it out and I'll feel safe when they let us on."
The bomb squad truck did haul away a few items for further examination, but in the end their exhaustive search found nothing dangerous.
"There was no device found, no explosive material found, but that doesn't mean the dogs erred or were wrong," said Previtera.
He explained that they might have smelled odors left behind on the pallet or in the truck from a previous shipment.
With the investigation wrapping up, by mid-afternoon passengers began the boarding process. Their fun was delayed, but not destroyed.
"We went over to Channelside and had lunch. It was no problem at all," said one man about to get on board. According to Royal Caribbean, the ship was expected to depart at 6:30 p.m. That's only a couple of hours behind schedule and the delay will not impact the cruise itinerary.
Royal Caribbean International released the following statement regarding the incident:
"Earlier today, the Hillsborough County Sheriff's Office investigated a suspicious package located on the dock at the Port of Tampa. In an abundance of caution, the Sheriff's Office evacuated the terminal building Royal Caribbean uses to check in guests sailing on Jewel of the Seas. They also requested that no one board the ship at this time.
Once the Sheriff's Office completed their investigation, guests were allowed back into the terminal and check in began. The ship will depart Tampa at 6:30 p.m. this evening. The delayed departure will not impact the ship's itinerary. We apologize for any inconvenience this issue may cause our guests.
Jewel of the Seas is sailing a four-night itinerary that departs Tampa, Florida, today, April 18, and calls to Cozumel, Mexico."
Do you feel safe aboard a cruise vacation? Let us know in the comments!
By Kathryn Bursch, WTSP.com
For more cruise news & articles go to http://www.cruisecrazies.com/index.html
Re-posted on CruiseCrazies.com - Cruise News, Articles, Forums, Packing List, Ship Tracker, and more