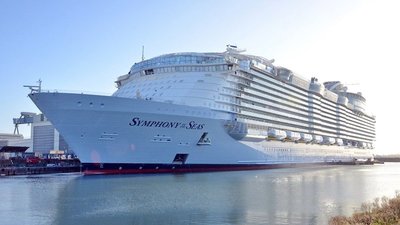 It may be big, but it handles just fine. 
Royal Caribbean's soon-to-debut Symphony of the Seas, the largest cruise ship ever built, completed an initial round of sea trials over the weekend with flying colors, according to the shipyard in France that is building it. 
The 228,081-ton vessel, which will be able to hold nearly 6,700 passengers, hit performance measures for every system tested during the 80-hour sail off the West Coast of France, the St. Nazaire, France-based STX France shipyard said in a statement released this week. 
"During the trial, the full range of the ship's systems were activated at sea," the statement said. "Each and every expected performance was reached."
Undertaken in the final months of a cruise ship's construction, sea trials are designed to test the vessel's engines, steering, maneuverability, safety systems, communications, propeller shafts and navigation systems. Tests during sea trials also measure cabin acoustics and vibration scenarios.
Cruise ships must pass the sea trials before they can sail with passengers.  Symphony's sea trials initially were scheduled for January but were postponed due to bad weather off the coast of France.   
Symphony will undergo one more short sea trial in the coming weeks before STX France delivers the vessel to Royal Caribbean. The ship is in the midst of final interior outfitting and is scheduled to be completed in late March. It's first sailing with paying passengers is scheduled for March 31. 
Behold the largest cruise ship ever built, Royal Caribbean's Symphony of the Seas. USA TODAY
A sister to Royal Caribbean's giant Harmony of the Seas (the current size leaders in the cruise world), Symphony will be more than 1,000 tons bigger than its sibling and offer several new features for passengers.  Among differences, the ship will have more cabins than Harmony including a first-of-its-kind, two-deck-high family suite with a slide between floors. It'll also have a revamped Boardwalk amusement area and a new-for-Royal Caribbean seafood restaurant. 
Designed for vacationers who love big, bustling mega-resorts, Symphony will boast dozens of lounges, bars and restaurants in all as well as an array of deck-top amusements. It'll hold up to 6,680 passengers — a new record for a cruise ship.  
Symphony has been under construction for more than a year at the STX France shipyard — the same shipyard that built Harmony. STX France is one of the few shipyards in the world capable of building a cruise vessel of Symphony's size.  After debuting in late March, Symphony will spend its first few months sailing in the Mediterranean out of Barcelona. It'll then move to Miami to operate voyages to the Caribbean. 
Royal Caribbean's Oasis Class vessels have made waves in the cruise industry since they began debuting in 2009. All three of the Oasis Class ships currently at sea are in excess of 225,000 tons — more than 30% larger than the next largest cruise ships.
By Gene Sloan, USA Today
Re-posted on CruiseCrazies.com - Cruise News, Articles, Forums, Packing List, Ship Tracker, and more
For more cruise news and articles go to https://www.cruisecrazies.com