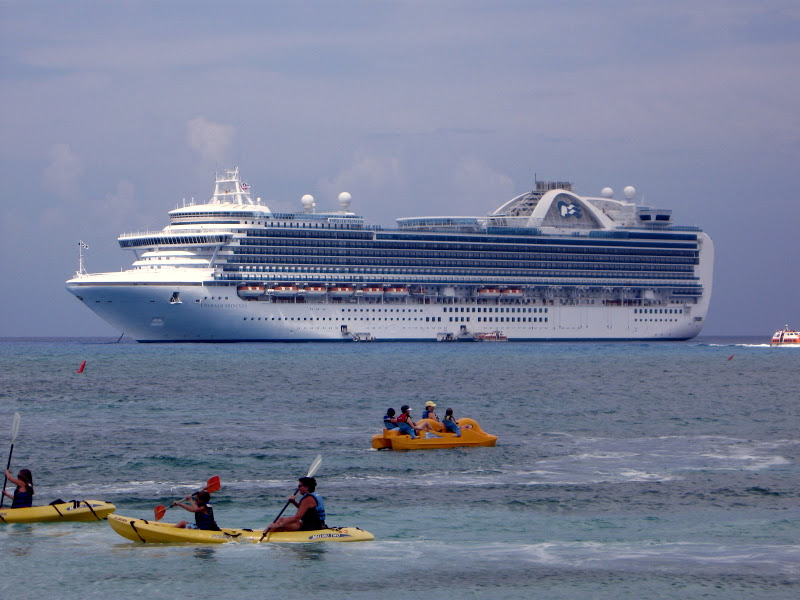 New cruisers always ask me "What's included in my cruise," and rightly so. While some high end, luxury cruise lines and river cruise lines include many of the "extras" mentioned in this article in the price of their cruise fare, the more mainstream cruise lines are not quite that generous except during special promotions. To help you in planning your next cruise, and deciding what extras are worth the price and those you can do without, here is a rundown of what is and what is not included.
What's Included with Your Cruise Fare
Stateroom. Let's start with the basics - the cabin. All cruise fares are quoted as "double occupancy" meaning you're buying accommodations in a cabin with two "berths" or beds, in layman's terms, and you and a mate will pay the same rate.
Some notes about fares:
Single Rates. Since cruise cabins are designed for double occupancy, cruise lines assume you'll be bringing a guest. If you prefer to cruise solo, expect to pay a single supplement, anywhere from 10 to 100 percent of the double occupancy rate.
Third and Fourth Rates. Invite the kids or your friends to share your cabin - they'll pay a reduced rate.
Port Fees or NCFs. Once upon a time, port fees were an afterthought along with another separate charge for taxes. Nowadays, however, you might see the two lumped together in one mystery charge called NCF, or "non-commissionable fees". When shopping around for a cruise, be sure you are comparing apples to apples and receiving quotes with all the NCFs included, meaning the total cruise price including taxes and fees. For example, oftentimes you may see a newspaper cruise ad featuring a tempting deal. Be aware that the price you see may not include port fees, taxes or both. Be certain to ask.
Meals. Cruising has come a long way since the days when all the food you enjoyed on a cruise was included in your fare. These days most food is indeed still included, including multiple dining choices for breakfast, lunch, dinner, snacking and room service. What's changed are the increasing number of "specialty" eateries with a cover charge. Are they really any better and worth the extra fee over and above what you're already paying for? It all depends on who you talk to. Ultimately, only you can decide.
Room Service. Other than a few cruise lines trying to sneak in a pizza delivery surcharge, 24-hour room service is included - and in my opinion one of the best things about cruising. Try ordering free room service at the Marriott and see where that gets you!
Complimentary Beverages. Coffee, tea, ice tea, milk, lemonade and water and "juice drinks" can all be found around the ship, usually in one of the buffet-style restaurants. If you're looking for soda, alcoholic beverages or a cafe mocha double latte or some other fancy concoction, expect to pay. More about that below.
Activities. Good news! Sunning yourself on the Lido Deck is still free! So are the pools, jacuzzis, the fitness center, and a myriad of other events going on day and night.
Entertainment. Thankfully, there's no shortage of complimentary entertainment throughout the day and evening on board a ship: a string concerto in the atrium, a dance band in the nightclub, reggae out by the pool, a crooner performing in the lounge, a Broadway-style show in the theater, plus karaoke, comedy, games and more.
What's NOT included in the cruise fare.
So far, this sounds almost like an all-inclusive vacation, doesn't it! Not quite. Here is what's not included in the price of your cruise:
Gratuities. All good service should be amply rewarded, and that goes for cruises, too. Most cruise lines have crossed over from the individual envelope system to a simpler "service fee", which is then divided in one fashion or other among various dining and housekeeping staff. If you are curious about who gets what percentage of the tip, just ask. To make the tipping process even easier, the gratuities or service fee, averaging a flat rate of $12 per person/per day or so, are added to your onboard account. For those who like to pay as much as possible in advance, you often are given the option of prepaying your gratuities with the cruise fare. In fact, it's required in some instances. Imagine that - prepaying for service you haven't even received yet. I wonder what Emily Post would say!
Fuel Charge: Cruise lines reserve the right to charge a fuel supplement without advance notice if oil prices climb to such-and-such amount per barrel. Even if they don't charge the fee, and they haven't since 2008, the language is clear as day on every cruise invoice.
Air, Hotel and Transfers. Cruise lines offer a range of pre-cruise and post-cruise hotel stays, flights and transfers to enhance your cruise experience.
Shore Excursions. Unless you're cruising to "nowhere", your ship will eventually come ashore at one or several ports, and the ship will offer a variety of shore tours and activities for a fee.
Soda, Specialty Coffees & Teas, Fresh-Squeezed Juice, Health Shakes, and Alcoholic Beverages. Cruise lines make big money on beverage sales, especially the alcoholic variety. In fact, most recently unlimited beverage packages have made an appearance - pay one price and no need to count your drinks. Before you lay down big bucks for an all-you-can drink package, make sure you know what it includes and whether you'll benefit from it. The most inclusive, highest price package include all of the previously mentioned, and therefore any combination of beverages can go toward the minimum you need to drink to get your money's worth. For kids and non-spirit drinkers, soda packages and other booze-less packages are available for an extra fee, as well. Are you wishing on a star for free soda on a cruise? If so, Disney Cruises is your friend.
The Casino. Here that flushing noise? That is the sound of your hard-earned dollars going down the nautical toilet. But, hey, it's a gamble that many people enjoy, and those slot machine buttons work just as well on cruise ships, although I'm still undecided about their penchant for payouts.
The Spa. One person's poker game is another person's body wrap. All sorts of heavenly, luxurious treatments to relax and pamper are available for a fee.
Specialty Restaurants. Steakhouses, Japanese fare, Italian trattorias, dinner clubs and more, promising better food, better atmosphere and a more intimate experience are surfacing all over the cruise map. Cover charges range from about $20-$50 per person. Similar to beverage packages, cruise lines have introduced specialty dinner packages to satisfy foodies and others who crave cuisine outside of the usual dining fare.
Of course, there are many other ways to spend money on a cruise ship. However, don't be too concerned about all the for-fee options, because if you're like me, you'll be happy to just grab a deck chair and watch the world sail by. It costs nothing extra, and you might catch a beautiful sunset In the process.
Jan Neves, CruiseCrazies Contributor and Authorized Agent
Re-posted on CruiseCrazies.com - Cruise News, Articles, Forums, Packing List, Ship Tracker, and more.
Please visit CruiseCrazies.com for more cruise news & articles.
Featured photo credit: Jan Neves