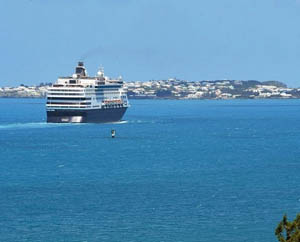 The cruise ship schedule for 2012 shows Bermuda's regular visits down ten percent for the coming year, with the occasionally-visiting ships showing the sharpest drop overall.However a Ministry of Transport spokeswoman said 2012 is expected to record the second highest number of cruise ship visitors in Bermuda history.Bermuda is expected to see a total of 162 ships, bringing more than 360,000 visitors, between March 1, 2012 and the season's December 1 conclusion.Among the Island's regular, contracted ships, Holland America Line's Veendam is down the most. It will call 19 times five visits less than in 2011.
The ship has cancelled its visits altogether for 2013. St George's will lose out as the Veendam, which had been dropping anchor off the East End when possible, stops in Hamilton from April 24 until August 28. The ship is scheduled to include Murray's Anchorage off the Old Town for one trip its final visit to the Island next year. However, three vessels Regatta in June, and the Quest for Adventure and Silver Whisper in October are scheduled to make port calls in St George's, at Penno's Wharf, during 2012, bringing much-needed business directly to the town.Of Bermuda's regular cruise callers, Norwegian Gem has been replaced with the equivalent-sized Norwegian Star.
The Norwegian Dawn's arrivals are holding steady at 22 for the coming season. Royal Caribbean International meanwhile has boosted its numbers. Regulars Explorer of the Seas and Enchantment of the Seas are scheduled to make a total of 14 extra stops.Princess Cruise Lines' Caribbean Princess will no longer be calling regularly: from seven visits to the Island this year, the 1,020-ft vessel is next year scheduled to make one October 29 stop only, at Dockyard's Heritage Wharf.
The occasional callers show the sharpest drop, nearly halving from 40 to 22 mainly due to Carnival Cruise Lines curtailing its services.Carnival shows a precipitous drop: four ships called a total of 16 times this year. In 2012, Carnival Pride will make just a single early call, on April 25, to Dockyard.
The Ministry spokeswoman said yesterday that the decision of Carnival to cut back on visits to Bermuda was not based on the Bermuda product, but the lack of prime berths available for their deployment requests. "Due to contractual obligations with RCCL, Celebrity and NCL, prime berths are not usually available for occasional callers wishing to arrive in Bermuda on Mondays through Friday, May through Labour Day," she said. "These are the times when cruise lines introduce higher ticket prices because it aligns with school breaks in the US, Canada and Europe. "RCCL, Celebrity and NCL all occupy these prime berths on a weekly basis, making it difficult to accommodate all of the requests the Ministry receives from other cruise lines."
Because of the booking difficulties, the Ministry said that Carnival decided it would be more profitable to sail to other destinations rather than visiting Bermuda at less profitable dates and times. The Ministry las night gave a projected figure of up to 363,000 visitors for the 2012 season, nearly 30,000 lower than the estimated figure for 2011 but higher than in previous years.