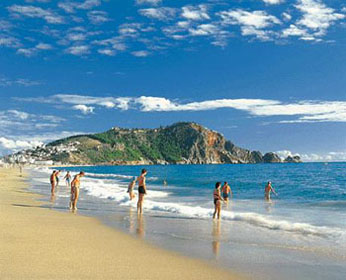 The Costa Mediterranea is in Alanya today with 2,661 passengers onboard, breaking the previous record of 2,627 set in June.The Turkish port of Alanya will have 40 calls this year and is forecasting 60 for 2012, according to Haluk Sayman, marketing manager for Alanya Cruise Port. By comparison, there were 30 calls and 22,000 passengers in 2010. The dip that year was largely due to the withdrawal of Israeli ships that used to call two to four times a week.
This year, Thomson Cruises' Celebration and Island Escape account for 20 of the calls. In addition, the Costa Mediterranea is calling six times, as well as the Norwegian Jade.
The Costa Mediterranea is in Alanya today with 2,661 passengers onboard, breaking the previous record of 2,627 set in June. The Jade will be calling in October.
"We can handle up to 5,000 passengers at a time," said Sayman, "but with a three-hour interval between arrivals if there are two ships."
Also, in related news, the port has acquired a 30 ton bollard tug boat. Sayman said the tugboat is on standby in case of adverse winds or currents.
Described as a hang-out for Queen Cleopatra, Thomson notes two sides of Alanya – the ancient Seljuk city and the modern beach resort. According to legend, Mark Antony presented the town as a present to his girlfriend in 44 BC.
Thomson list certain shore excursions on its website, including a castle, cave and city tour, with a visit to the 13th century Sultan of Seljuk castle, built on top of earlier Byzantine and Roman fortifications, with some 150 towers, chapels, mosques and covered markets.
There is also a stop at the Dalmatas cave with calcite formations and Turks have been coming there for its rumored healing properties. The tour concludes with some free time in the city center.
A second tour calls at Perge, the ancient capital of the Pamphylia region, where St .Paul is said to have preached his first sermon when he began his missionary journeys. Afterwards, passengers visit Aspendos, which is described as "probably the best-preserved theater of antiquity." Big enough to hold thousands of spectators, it's still used today for performances and festivals.
The third tour is to the waterfall at Manavgat with a visit to the Side and the ruins of its ancient amphitheater.
In addition are other excursions to the Dim River and Cave, according to Sayman, plus a jeep safari in the Taurus Mountains, and rafting in the Koprulu Caynon, as well as visits to traditional Turkish Baths.
Sayman commented that in his opinion the Turkish Riviera is no less rich in cultural and historical heritage than, for instance, Dubrovnik or the Croatian coast as described in TUI's 2010 sustainable development report.
Local interests in Alanya are focused on promoting the town for international fairs and exhibitions year-round, including the Alanya municipality; the chamber of commerce, the tourism promotion foundation, the hoteliers' association and the cruise port. Local interests are also very supportive of cruise tourism, according to Sayman, who added: "We are prepared for year-round calls in terms of our terminal facilities. The sites and attraction are open during the winter too.