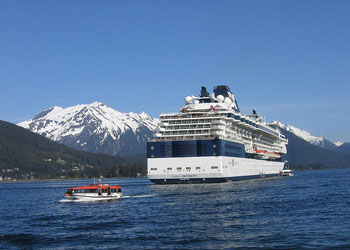 Sitka radio station KCAW reports that in the face of declining cruise ship passengers, the Southeast city is considering building a dock.
Voters may decide this fall whether to sanction the project, long a source of contention in town. The issue is coming to a head as the fewest cruise ship passengers in 15 years graces the town. Four years ago, nearly 290,000 passengers arrived in Sitka on cruise ships; this year, only 106,000 people are expected to visit that way -- a 63 percent decline. With no dock, prospective visitors need to be persuaded to be ferried to shore in smaller boats. Some folks decline to leave their cozy ships to visit Sitka.
Building a dock could boost the city's tourist traffic, which would help businesses and the municipal budget. Dock opponents worry it will spoil the downtown area.
Tonia Rioux of the Sitka Convention and Visitors Bureau told KCAW's Ed Ronco, during a stroll the through town, "I see a lot less people for a cruise day than what we used to see downtown. And I see some empty storefronts and a lot of sale signs in the window — discount sale signs, liquidating. Some shops have goods in them, but they're closed right now -- even though it's still early afternoon."
It has come to a point when businesses are packing up for other places. Colin Hereforth, who ran Fairweather Gallery and Gifts in Sitka for 17 years, moved to Juneau last fall because business is better there. While Hereforth still lives in Sitka, he told KCAW that when he saw the number of visitors passing through Juneau, "It seemed like, well, how can we not do this?"
Source: Alaska Dispatch