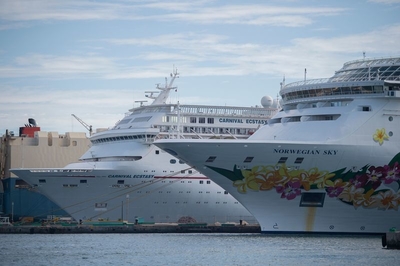 After the devastation wreaked by Hurricane Dorian, tourism is leading the charge to bring desperately needed dollars back to the Bahamas.
The storm pummeled the nation's northern islands of Grand Bahama and the Abacos, causing $3.4 billion in damge and killing at least 67 people, with almost 300 still missing.
But since then, Florida-based airlines and cruise lines have restored suspended services and vowed to expand their presence.
Dorian sat over the island nation between Sept. 1 and 3, bringing death and destruction. About 30,000 people lost their homes and other personal assets. An estimated 282 people remained missing at the time the Inter-American Development Bank compiled its damage report, which was released in November.
The long-term prognosis for recovery in the hardest-hit islands is grim, the bank concluded.
"Reconstruction efforts will last many years and will require a well-coordinated participation of public and private sectors, civil society and international community," said bank representative Daniela Carrera-Marquis, in the study's executive summary.
Simply put, the government lacks the resources to rebuild thousands of homes and businesses flattened by Dorian in the north, business executives say.
Oneil Khosa, CEO of Bahamas Paradise Cruise Line of Palm Beach, said the southwestern portion of Grand Bahama is largely back in business because it wasn't hit as hard as the northern and eastern sections of the island.
"But for the remaining part of the island all the way east or north, it's going to be a painful, long process" to rebuild, he said. "I don't think they [the government] have the required manpower and resources to just go start rebuilding everything."
In the storm's immediate aftermath, his line underwrote trips for Bahamians to travel to and from the Port of Palm Beach to collect supplies. It also moved U.S.-based volunteers to Grand Bahama so they could help storm victims in the northern islands.
In the Abacos, Khosa said, the storm "was like a bulldozer."
Repairs will have to be made according to new building codes, and a dearth of manpower will incur "an extraordinary expense" to rebuild, according to Khosa. Delivering materials will be easier in Grand Bahama now that its seaport and airport are back in operation, he said.
But the Abacos don't have that luxury, even though regularly scheduled flight services have resumed. Residents are reliant on small boats and small planes. "So [rebuilding] will take forever."
Since the storm, the government has played one of the few cards it can: Wage an all-out marketing and publicity campaign to keep alive the country's main economic lifeline — tourism.
Initially, companies doing business in the country — namely cruise lines and hotel operators — responded with millions in immediate recovery aid while reaffirming commitments to stay in the country and deliver dollar-bearing tourists.
Meanwhile, the government took its marketing campaign to Florida and a variety of U.S. cities, stressing that the nation is "open for business." Anecdotal evidence shows the campaign is slowly bearing dividends.
CRUISE LINE SUPPORT
In the storm's wake, many South Florida-based cruise lines including those under the Carnival Corp. umbrella, as well as Royal Caribbean, MSC, Norwegian and Bahamas Paradise, dispatched vessels to move supplies to the islands and help with evacuations. At the same time, they kept stops such as Nassau and Bimini on their itineraries.
"Since many of our destinations, like the Bahamas, rely so heavily on tourism to help drive their economy, it was important to quickly revitalize any dock or beaches, along with other areas impacted by the hurricane to restore regular cruise service as quickly as possible," said Carnival spokesman Roger Frizzell.
The company's joint venture shipyard in Grand Bahama, which reopened for business shortly after the storm, helped restore fresh drinking water to local residents.
Carnival Cruise Line resumed regular calls to Grand Bahamas on Oct. 1 and announced at the time that it expected to make 39 calls there for the remainder of the year with 100,000 passengers.
Three of Carnival Corp's lines — Carnival Cruise Line, Holland America Line and Princess Cruises — continued regular sailings to The Bahamas with 250 calls to the country.
Bahamas Paradise Cruises, has resumed passenger service to Grand Bahama and added Nassau as a cruise destination.
"We're a little different than the rest of the cruise lines," Khosa said. "We're the only one with a cruise and stay product," which means passengers can cruise to a hotel in Nassau, stay for two, four or six nights, "and then come back with us."
From a passenger traffic standpoint, "things could be better. But we're glad where we are after all of we have been through. We are getting into the season now, so we are very optimistic."
By David Lyons, South Florida Sun Sentinel
Re-posted on CruiseCrazies.com - Cruise News, Articles, Forums, Packing List, Ship Tracker, and more
For more cruise news and articles go to https://www.cruisecrazies.com