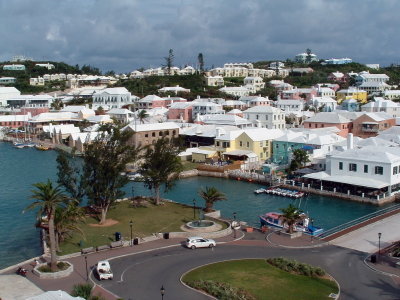 Bermuda's government, eager to attract more cruise ships to its shores, is exploring the development of a cruise ship port at the historic town of St. George's. "We are in conversations with the cruise industry reviewing the options for a cruise pier in St George's," said Shawn Crockwell, Bermuda's tourism minister, in an address to the country's legislature late last week.
Although it remains a popular Bermuda tourist destination, the port city of St. George's is not currently used for cruise ship arrivals. The largest cruise ships visiting Bermuda use the Heritage Wharf and King's Wharf facilities at the Royal Naval Dockyard. Small and medium-sized cruise ships also dock on Front Street in Hamilton, Bermuda's capital city.
Anticipating the construction of a new terminal, Bermuda could attract 415,000 cruise ship passengers annually by 2015, according to a tourism ministry spokesman. The island expects to host 343,000 cruise ship arrivals in 2013.
Bermuda's national tourism plan, to be implemented by the recently approved Bermuda Tourism Authority, is also targeting 422,000 cruise visitor arrivals by 2022. "It is unlikely that the cruise visitors can be obtained with just the two cruise piers at Dockyard," said a tourism ministry official quoted in the Bermuda Royal Gazette.
Bermuda recorded its largest cruise passenger total in 2011 with 410,000 passengers. The total included 24 regular seasonal calls by Holland America Line's Veendam, which have since ceased. About 60 percent of tourists traveling to Bermuda arrive on cruise ships, with 40 percent coming to Bermuda by air. Crockwell has called that ratio "not balanced."
By Brian Major, Travel Pulse
For more cruise news & articles go to http://www.cruisecrazies.com/index.html
Re-posted on CruiseCrazies.com - Cruise News, Articles, Forums, Packing List, Ship Tracker, and more