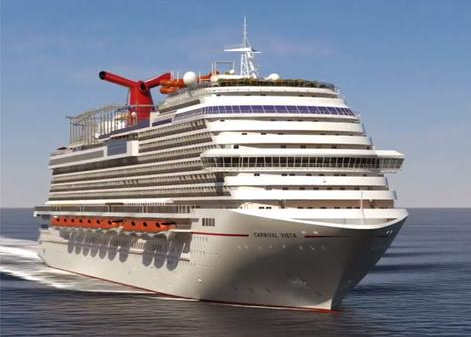 Carnival plans to brings the largest ship in its history to Miami, docking the 4,000-passenger Vista at PortMiami as part of an extended deal for subsidies from Miami-Dade County.
The extended lease with Miami-Dade's PortMiami would extend Carnival Corp.'s tenure there through 2028, with an option for Carnival to stay through 2035. Carnival pays rent, but also receives subsidies in the form of revenue from nearby port garages and cash paid as "marketing" incentives to promote their Miami cruises. Miami-Dade also agreed to spend up to $10 million upgrading Carnival's port terminals.
Port officials expect the new deal to bring about $27 million to the county this year. Estimates in a memo to county commissioners show Carnival paying about $36.5 million in rent, and receiving about $9.5 million back in county incentives.
Both the subsidies and the rent should climb each year as Carnival attracts more passengers. The port expects Carnival to attract about 1 million passengers in 2015. (The official estimate is 2.1 million passenger "moves," which counts when a passenger boards a ship at PortMiami and when the same passenger leaves a ship at PortMiami.)
The deal requires Carnival to sail the Vista out of Miami for at least 24 months in the three years after the ship launches in 2016. Set to be the biggest ship in Carnival's fleet, the Vista has attracted high interest from the cruising press. Carnival had not announced its home port before Tuesday's meeting of the Miami-Dade commission, which unanimously approved the new PortMiami deal. The current lease expires in 2018.
By Douglas Hanks, Miami Herald
For more cruise news & articles go to http://www.cruisecrazies.com/index.html
Re-posted on CruiseCrazies.com - Cruise News, Articles, Forums, Packing List, Ship Tracker, and more