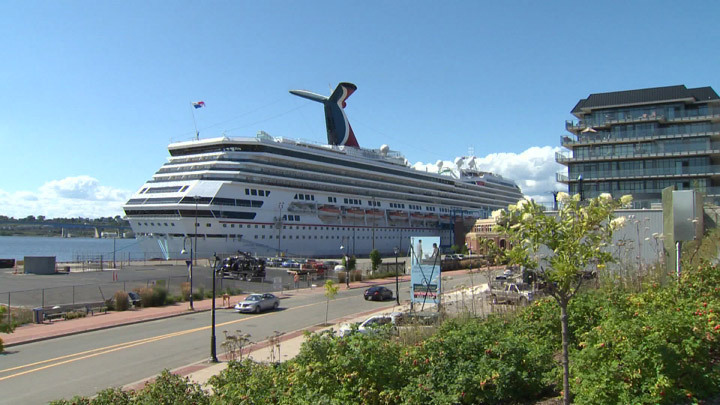 The momentum of the Saint John cruise ship industry will start to slow down next year.
The Carvinal Glory makes the most stops in the Port City compared to any other cruise ship, but that's coming to an end. Carnival Cruises has decided to use the vessel elsewhere and is replacing it with another ship that will make only 11 stops in Saint John compared to the over 20 the Glory will make this year.
"It is a dip but I don't think it's a catastrophic one by any stretch." says Melanie Colpitts of Aquila Tours, where a major part of the business is centred around the cruise industry.
This change is actually not surprising to many tourist operators thanks to new emissions standards. As a result, some cruise lines have made adjustments until they can figure out how to operate efficiently with these new rules.
"It's certainly been something that's been talked about a lot the last couple of years. All of the lines are looking for ways to mitigate and try to still meet the goals of ECA [North American Emissions Control Area] until they can get those fuel requirements met." says Colpitts.
The Carnival Glory carries 3,500 passengers, so in lost tourist traffic for next years season that equates to more than 35,000 fewer tourists. It's a fairly big chunk of the market and something local tourist based businesses aren't taking lightly.
Marc Gosselin of the Reversing Falls Jet Boat Ride does get some cruise ship traffic, but he's made sure to position his business in a way so he doesn't entirely depend on them. However, he says other businesses that cater specifically to the cruise industry could suffer from this.
Gosselin says the industry has faced setbacks like this before when in 2000 another cruise line left the city.
"Of course we've been rebuilding that industry and now we are again at the same phase again."
By Tino Makris, Global News
For more cruise news & articles go to http://www.cruisecrazies.com/index.html
Re-posted on CruiseCrazies.com - Cruise News, Articles, Forums, Packing List, Ship Tracker, and more