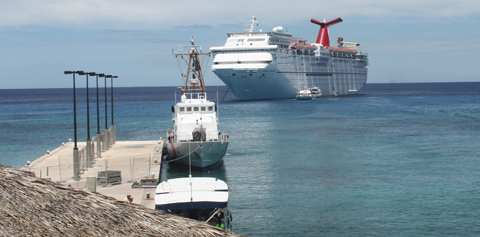 Carnival Cruise Line passenger arrivals in the Cayman Islands are projected to fall by nearly a quarter of a million in 2013, the Ministry of Tourism said Friday.
On December 21, the Florida-Caribbean Cruise Association informed the ministry of the changes by telephone, government officials said.
The cruise association noted that the cruise company did not wish to have the Carnival Breeze serviced by cruise tender boats.
Various cruise ships have also been reallocated to Roatan, Honduras and to European routes, according to Carnival.
Tourism officials said the decision to not have certain ships serviced by cruise tender boats "illustrates the need for proper berthing facilities".
Tourism Minister Cline Glidden. Jr. has consulted with Governor Duncan Taylor on this matter. Mr. Taylor said he has no objection to the proposal to develop cruise ship berthing facilities, so long as procurement procedures are in line with international best practice and are transparent and robust.
The decrease in Carnival cruise line passenger arrivals was forecast to be offset somewhat by increases from other cruise lines, tourism officials said.
The Cayman Islands Port Authority web site states that scheduled calls for 2013 are at 508 and projected total cruise passengers are approximately 1.4 million for this year.
Source: CayCompass.com