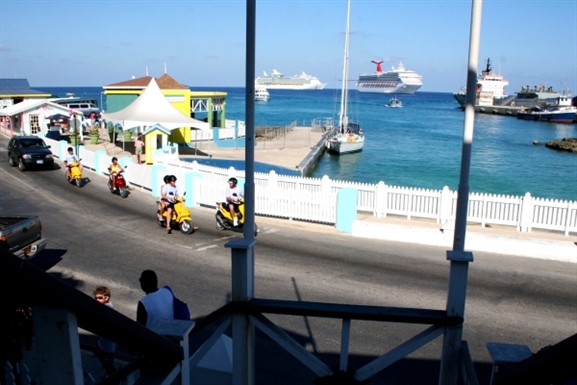 The Cayman Islands will build a long-awaited cruise ship terminal in George Town and redevelop the island's airport within the next several years, said tourism minister Moses Kirkconnell in a briefing with local press last week.
Kirkconnell said the government will follow the formal process launched under the previous administration to construct a modern cruise passenger terminal in Caymans' capital city. He recently participated in meetings to determine the "business case model" for a cruise port planned by local stakeholders rather than by commercial port developers.
Kirkconnell, who was named tourism minister earlier this year following the election of Hon Alden McLaughlin, Jr. as the country's premier, also confirmed that the new government is planning to re-develop Owen Roberts International Airport.
Cayman Islands officials have long sought to build a new cruise ship terminal. Despite its popularity as a port of call, the destination lacks a terminal capable of accommodating large ships and ferries most cruise passengers to shore via tenders.
Kirkconnell added that Cayman tourism stakeholders must provide additional support to the destination's recreational dive industry. Citing the success of the Kittiwake wreck as a dive site, Kirkconnell said he has talked with the Cayman Islands Tourism Association and local dive operators about sinking another boat in local waters to create another artificial reef. The dive sector remained steady even as general visitor numbers declined due to the global recession in recent years, said Kirkconnell.
By Brian Major, Travel Pulse
For more cruise news & articles go to http://www.cruisecrazies.com/index.html
Re-posted on CruiseCrazies.com - Cruise News, Articles, Forums, Packing List, Ship Tracker, and more