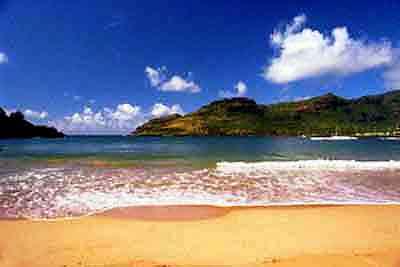 The 2011 passenger ship schedule for Kaua'i's Nawiliwili Harbor shows the number of cruise ships visiting the island next year will increase by 26 percent.
The increase is in international cruise vessels, from 46 visiting days in 2010 to 58 planned for 2011.
There are 18 different ships that will visit Nawiliwili, representing 10 different cruise lines.
Norwegian Cruise Line's "Pride of America" will continue its twice-weekly visits, arriving on Thursdays and departing on Fridays, and representing a total of 104 visitor days.
Princess Cruise Line's "Golden Princess" is scheduled to visit 16 times, and its "Sapphire Princess" is listed for seven visits.
In all, Princess Line will have three cruise ships visiting a total of 29 days, followed by Holland America, which will have three ships visiting a total of 10 days. The two lines comprise 67 percent of total international vessel visits.
The new schedule represents a gradual increase in visits by international cruise ships since NCL discontinued "Pride of Hawai'i" in February 2008 and "Pride of Aloha" in May 2008, said Harbor District manager Robert Crowell on Tuesday.
"NCL used to run six days a week, three different ships," he said. "They had it locked up. Only on Wednesdays were we open for international ships. Now, other ships can fit in."
The harbor, which has capacity for only one cruise ship at a time, had a total of 32 international ships visiting in 2008.
Visitor industry leaders at the time said the departure of two of NCL's ships from Hawai'i to sail in foreign waters accounted for almost 80 percent of Kaua'i's visitor-arrivals decline during the summer of 2008.
Crowell said the new schedule is tentative.
"These are the scheduled stops," he said. "There are no guarantees. But who knows, maybe in 2012 we'll have even more international ships."
He also said he would like to remind folks that due to increased security at the port, "people cannot come here and just meet friends coming off the boat. They have to stay behind the gate. It would be better to choose in advance a meeting place somewhere away from the harbor."