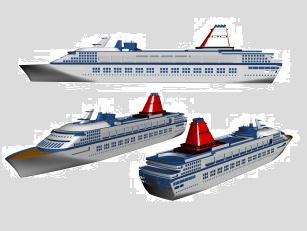 Cruise ships docked in Brooklyn continue to choke Red Hook with their fumes — despite a widely touted deal a year ago that was supposed to solve the problem.
The Port Authority approved $15 million to build a system allowing ships to plug into an electric grid — but costs have shot up another $4.3 million and the agency hasn't shelled out the extra money, according to local elected officials
"It is critical that this project not fall by the wayside," said Rep. Nydia Velasquez (D-Brooklyn).
Velasquez and seven other pols sent a letter to the Port Authority, which has a board meeting Thursday, urging them to cough up the extra cash for the system, known as shore power.
"Asthma rates among Red Hook youth are high, and reducing these emissions will go a long way in health benefits and cleaner air," they wrote, saying it would cut nearly 100 tons of nitrous oxide, 100 tons of sulfur oxide, and over 6 tons of particulate matter a year.
Ships have operated on diesel since the cruise terminal opened in 2006 because there's no way for them to plug into the electric grid.
State and local officials, Con Ed, and Carnival Corp. squabbled for years over how much electricity for ships would cost and how to pay for it, before finally announcing a deal last April to split the cost.
Neighborhood residents thought they could breathe a sigh of relief - but then the spike in the pricetag of building the physical system threw the plan into limbo.
"It seems fairly pathetic that all of these things are in place but the Port Authority are twiddling their thumbs," said Adam Armstrong, 48, a dad of two who lives on Pioneer St. near the terminal and blogs on the issue. "I thought it was quibbling over a small amount of money considering the impact of the emissions on people's health."
Port Authority spokesman Steve Coleman said the agency "authorized $15 million for this shore power facility for the Brooklyn Cruise Terminal, which is active 28 days a year."
"We support the environmental benefits this unique project will have for those who live and work around the terminal, but the project needs an additional $4.3 million to cover costs. We are evaluating options on how this gap can be filled, especially in light of the fact that the cruise ships that call on the facility are only committed for two years beyond projected completion of the construction," he said.