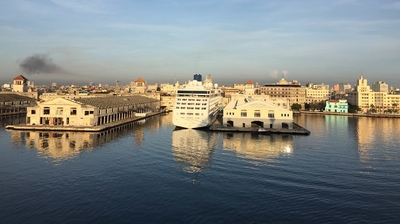 Cuba expanding Havana cruise port, hires private company to run it
The publicly traded port operator Global Ports Holding said it has signed a long-term deal to manage the cruise piers in Havana, with the expectation that they will be significantly expanded.
The company will operate the port, advise on the Cuban government's redevelopment of the piers, and market the new terminals when built.
Global Ports said the number of berths will increase to six by 2024, significantly increasing the passenger capacity. The port currently has two functional cruise berths and in 2017 welcomed 328,000 cruise passengers, a growth rate of 156% compared to 2016, according to a company statement. More than 500,000 cruise passengers are expected in 2018.
Every major cruise line has announced increased visits to Havana in the past six months. They have said that the additional berth space needed has come from more advanced management of the pier by Cuban authorities.
Global Ports said its agreement with Cuban company Aries for the operation of the cruise port in Havana has a 15-year term that begins on June 21.
Global Ports said its management fee will be based on passenger numbers, with growth-based incentives. It will work with Cuba on design and technical specifications of the development, including proposed new terminals.
When the terminals are built, Global Ports will be responsible for marketing and commercializing them.
Headquartered in Istanbul with offices in Barcelona and London, Global Ports to date has been concentrated in Europe. Chairman and co-founder Mehmet Kutman said the Cuba agreement is the first step in the company's strategy for the Americas.
By Tom Stieghorst, Travel Weekly
Re-posted on CruiseCrazies.com - Cruise News, Articles, Forums, Packing List, Ship Tracker, and more
For more cruise news and articles go to https://www.cruisecrazies.com