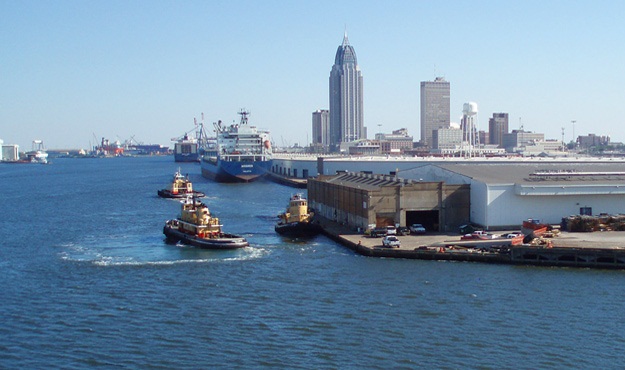 Carnival cruise line has turned to Mobile twice this year when its ships were disabled or diverted — and that has sparked new talk about whether the port city will ever become the permanent home for a cruise ship again.
Carnival diverted its Conquest ship from New Orleans to Mobile on Sunday after a section of the Mississippi River was closed due to a tugboat sinking.
The Conquest had been scheduled to unload Sunday in New Orleans and depart the same day with a new load of passengers. Instead, Carnival said it shortened this week's cruise to six days and was busing passengers from New Orleans to Mobile for departure late Monday afternoon. The ship was carrying more than 3,500 passengers, said Carnival spokesman Vance Gulliksen.
The 953-foot Conquest is the largest cruise ship to ever dock in Mobile. Carnival last used the port in February to dock the smaller Triumph after it became disabled and had to be towed. Passengers disembarked from the Triumph wearing bathrobes and complaining of foul conditions.
The passengers' attitudes Sunday afternoon were much different. Passenger Alisa Jordan of Hurley, Miss., said the cruise ship crew announced the change of plans Saturday night, everything on board functioned normally, and buses were waiting Sunday afternoon to take passengers to New Orleans, where many had left their cars.
"I was very pleased," AL.com quoted her as saying.
Mobile used to be a regular port for Carnival, but the cruise line moved its ship, the Elation, to New Orleans in October 2011. Mobile's cruise terminal hasn't been a regular port for any ship since then.
Mayoral candidate Sandy Stimpson said Carnival pulled out of Mobile during Mayor Sam Jones' administration. He said local officials should be doing more to make the port a regular home for cruises again.
"What we have there is a $25 million cruise terminal that's being used for $2,500 wedding receptions," he told WPMI-TV.
Jones said city officials have been working hard to recruit another cruise ship, and two companies have expressed interest.
He said part of the challenge is showing a cruise line it can make more money by moving to Mobile. Jones and other city officials recently traveled to Miami to meet with cruise industry officials.
"We'll get a ship. I'm confident we'll get a ship," the mayor said.
Successfully accommodating a ship the size of the Conquest — at a time when cruise ships continue to grow in size — will boost the city's efforts, Jones said.
Source: Associated Press
For more cruise news & articles go to http://www.cruisecrazies.com/index.html
Re-posted on CruiseCrazies.com - Cruise News, Articles, Forums, Packing List, Ship Tracker, and more