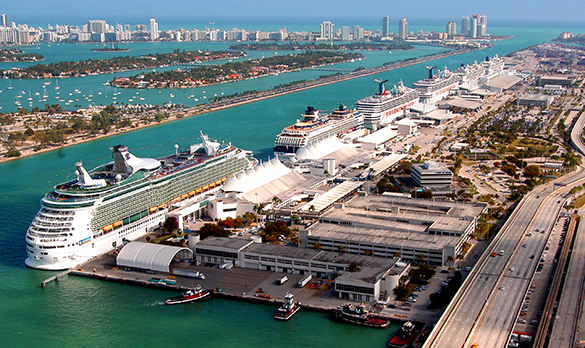 Miami's ship has come in. And it looks more like a fleet.
The Carnival Breeze, which starts regular sailings from its new year-round home Saturday, will be joined Thursday by Oceania Cruises' Riviera and Dec. 1 by Celebrity Reflection. All three launched earlier this year in Europe and make their U.S. debut in Miami.
After a three-year dry stretch ending in 2010 that saw no shiny new vessels mooring in Miami's waters — and years of efforts to draw new operators coupled with millions spent on upgrades — the port is touting its biggest expansion ever with the three new ships as well as three new cruise lines signing on for this season and next.
"You want your newest ships to have the newest facilities, and that's what Miami has done," said Miami cruise expert Stewart Chiron, CEO of CruiseGuy.com.
Regent Seven Seas Cruises moved its ships from Port Everglades in Fort Lauderdale to Miami, and Disney Cruise Line will sail for the first time from Miami starting in late December. Next year, MSC will bring its newest ship, Divina, to Miami after previously sailing from Fort Lauderdale.
And Miami-based Norwegian Cruise Line, which reignited the parade of new ships in 2010 with the Norwegian Epic, is bringing the 4,000-passenger Norwegian Getaway in January 2014 to Miami, where it will sail year-round.
"I never, ever would have considered going anywhere else, because we are a Miami company and we really believe that means something," said Kevin Sheehan, Norwegian's president and CEO.
That hasn't always been the universal sentiment. Nearly six years ago, the port was under fire for a history of inefficiency and sub-par facilities. In late 2007, Royal Caribbean chose Port Everglades in Fort Lauderdale as homeport for Oasis and Allure of the Seas, the world's largest cruise ships — despite having a Miami headquarters.
The presence of those giant ships has meant some other cruise lines felt the squeeze, and a couple, like Regent Seven Seas Cruises and MSC Cruises, have opted to move south.
"Once upon a time, Port Everglades was known as the boutique cruise ship port," said Frank Del Rio, chairman and CEO of Prestige Cruise Holdings, parent company of Oceania and the luxury Regent Seven Seas. "Now Port Everglades is the megaship port. We're the antithesis of megaships."
But Chiron said the moves aren't necessarily a negative for Fort Lauderdale's port.
"These ship movements and repositionings, all it's really doing is opening up both ports for really bright future opportunities," he said.
Port Everglades has grown its multiday cruise passenger numbers from about 2.6 million in fiscal 2008 to an expected more than 3.6 million on 45 ships in fiscal year 2012. By comparison, PortMiami's passenger numbers have grown from about 3.8 million in 2008 to what is expected to be more than 4 million with 26 ships at the peak for the current fiscal year.
For its part, Port Everglades continues to invest in upgrades, recently finishing the $54 million reconstruction of four cruise terminals under a 2010 agreement with Carnival Corp. for brands including Holland America Line, Seabourn and Princess Cruises.
The investments go on at PortMiami as well, where director Bill Johnson, who took the job in 2006, listened to criticism that Miami hadn't done enough to support the cruise industry. In the last few years, the port built a pair of terminals for Carnival for about $100 million. Since those terminals opened about four years ago, the port will have spent and continues to spend $70 million more in improvements, Johnson said.
Now, cruise operators say they are embracing Miami for a host of reasons: proximity to Miami International Airport, which offers direct flights for cruise passengers both domestic and international; the responsiveness of PortMiami officials to their needs and the appeal of Miami as a destination unto itself.
"We, like everyone else, positioned ourselves in places that people want to go to," Del Rio said. "People want to come to Miami."
Also a bonus is the relative strength of the Caribbean after a bleak summer in Europe due to continued fallout of the Jan. 13 Costa Concordia shipwreck in Italy, the shaky European economy and high cost of airfare from the U.S.
"Whether you're talking about the U.S. economy or talking about the European economy, it's been a tough time for consumers," said Gerry Cahill, president and CEO of Miami-based Carnival Cruise Lines. "One of the nice things about the Caribbean is you really can put together a great value proposition."
For Miami, the influx means more tourists. Even if they only stay an average of 2 1/2 days, the daily amount spent by cruise passengers is about $264.58, according to the Greater Miami Convention & Visitors Bureau.
"It may be the first exposure for these folks to the Miami brand and certainly there's reason then to either stay later or come back again," said William Talbert III, the bureau's president and CEO.
Miami-based cruise travel agents say the flotilla of new ships is cause for their own celebration.
"It translates into something very important to me: sales," said Victor Vianello, a CruiseOne franchise owner who works from his home in the Coral Gables area.
Because he lives in South Florida, Vianello can easily check out the features on all the new ships that arrive here. And his customers are very curious about the latest features.
While the pace of orders for more new vessels has slowed considerably, Carnival, Royal Caribbean and Norwegian have all made recent announcements about contracts for ships to be delivered in 2015 or 2016 — including talks for a third sibling to Oasis and Allure. None have said where those ships will be based.
Chiron, the Miami industry watcher, said few ports can accommodate such a giant, so he expects the third Oasis to come to Miami while another Royal Caribbean megaship might shuffle to Port Canaveral near Orlando.
Johnson said it's too premature to comment on what Miami's role might be with any future ships. But, he said, the port has on the drawing board plans for "the world's most advanced cruise facility," which could accommodate four Oasis-sized ships at once. He said such a project would cost $250-$300 million and would only move forward based on the needs of cruise line partners and industry growth at the port. But whatever happens, he's not taking the current successes for granted.
"My job was to dust off that dust on the diamond, make that diamond shine again," Johnson said. "We've got a ways to go in terms of the real brilliance."
By Hannah Simpson, Miami Herald