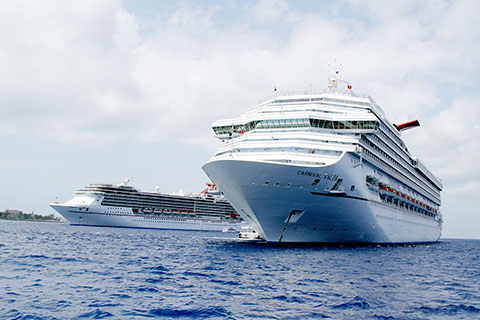 Cruise lines are being invited to begin "formal talks" with government over the development of new berthing facilities in George Town harbor.
In this instance, the companies are being approached in their role as the key users of the new docks rather than as potential business partners in building the facility.
The government says it wants to ensure that the scope of the development fits with what cruise lines expect from the ports they visit before it goes out to tender later this year.
It is likely that one or more of the cruise lines will ultimately be involved as a partner to government in building and running the port, but this latest round of talks over the much discussed project will focus largely on their role as users of the planned facility.
"Government has approached the Florida Caribbean Cruise Association and cruise lines as they will be the prime users of the berthing facility, and it is important that any specific user requirements they might have are determined early on in the process," said Moses Kirkconnell, minister of tourism.
"Once this has been accomplished, we will then look at the best ways to incorporate those needs, while ensuring value-for-money for the Cayman Islands," he added.
A request for proposals has already gone out, with a deadline of Wednesday this week, to find consultants to prepare an environmental impact assessment on the project.
That assessment will take place this year while government simultaneously works towards an request for proposals for the construction of the facility. Work is expected to begin on the project in 2015, with an estimated cost of between US$100 million and US$200 million, according to the business case produced by PwC.
By James Whittaker, Caymanian Compass
For more cruise news & articles go to http://www.cruisecrazies.com/index.html
Re-posted on CruiseCrazies.com - Cruise News, Articles, Forums, Packing List, Ship Tracker, and more