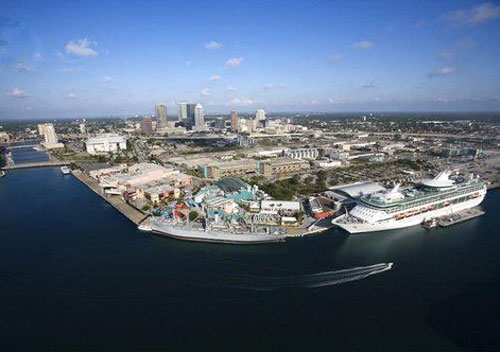 TAMPA - Just over 30 years ago, the first mega-cruise ship steamed into Tampa Bay and pulled up to a dock near downtown, amid freighters and cargo vessels. Holland America was ready to take passengers on jaunts around the Caribbean.
About 700 cruises and 1.2 million passengers later, Holland America celebrated its three-decade love affair with Tampa with fancy hors d'oeuvres, champagne and wine in elegant flutes served at the martini bar on the eighth deck of the Ryndam.
The Tampa Port Authority gave the Ryndam's captain a plaque and a gift basket commemorating the event.
Capt. Werner Timmers was watching the clock, though, as he handed command over to a new captain at noon and headed to his home in Mount Dora. He's commanded the Ryndam's crew for 12 years and has been in charge of cruise ships coming and going out of Tampa for 25 years, he said. Tampa feels like his home port, he said.
Holland America was the first major cruise line to ink a deal with the Tampa Port Authority.
"It's truly been a pleasure coming to Tampa since 1982," Timmers said. "We're looking for 30 more years."
"It was a milestone in the history of the cruise industry in Tampa," said John Thorington, director of communications with the port authority. "We are delighted by their commitment to this market."
Keeping the cruise line in Tampa for three decades is a testament to the area, he said. Interstates lead here and Tampa International Airport is just a few miles away, fueling the cruise industry. Three massive ships were docked behind the port authority building near The Florida Aquarium on Sunday morning.
The ships together disgorge and load about 13,000 passengers each weekend, he said.
William "Hoe" Brown, chairman of the port authority board, made the presentation.
Holland America "is a huge part of our port," he said. "The economic impact is tremendous. Thirty years means things are working here."
He said back in the early 1980s, the cruise industry in Tampa was tiny. Ships were small, destinations were limited. With newer lines of mega-cruise ships came elegant accommodations and passenger lists grew. New ports of call were opened up and out-of-towners began coming to Tampa to board the new ships.
"It's our relationship with Holland America that helped us become a significant player in the cruise business," said Wade Elliott, senior director of marketing for the port authority. "It helped put us on the map."
On this day of celebration there was no talk about the challenges the Port of Tampa faces as a cruise terminal with the launching of ever-larger ships — so large they cannot fit beneath the Sunshine Skyway Bridge over the shipping channel.
Last year, the Tampa Port Authority ordered a study into whether to establish a new cruise ship terminal west of the Sunshine Skyway, beginning with a determination of how much cruise lines might invest in a new terminal.
Source: Tampa Bay Online