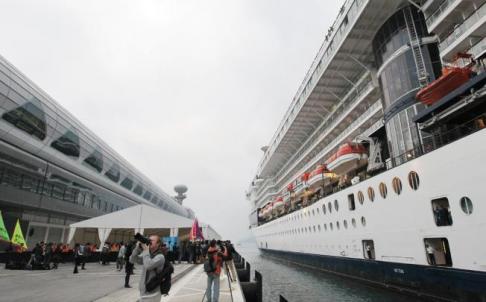 Officials have admitted to an "uneasy" start for the Kai Tak Cruise Terminal, with ships making just 37 bookings for berthing between its official opening in June and April 2015.
By comparison, Singapore's Marina Bay Cruise Centre, which opened in October, is booked to handle 89 dockings between June and April next year.
Commissioner for Tourism Philip Yung Wai-hung told a Legislative Council panel yesterday that various ways were being considered to increase traffic at the HK$8.2 billion terminal, including negotiating with the mainland government to divert some tourist demand for cruise tours to Hong Kong.
"The start is never easy," Yung said. "We hope that with effort, usage of the Kai Tak cruise terminal will be bigger and confidence in the facility will grow."
At the panel meeting on economic development, legislators raised concerns about the maintenance costs at the port and transportation facilities near the site, once home to the city's old international airport.
According to documents submitted to the panel, the terminal's maintenance fees will be HK$220 million a year, which officials say will be offset - ultimately - through income.
Yung told legislators that traffic could be increased by encouraging local tour operators to use the port for ocean tours departing from Hong Kong, while efforts had already been made to promote the facility to overseas operators. Water tours along the shore could also be developed.
As of yesterday, 18 cruises were registered to berth at the port from the opening month of June to April 2014. Another 19 cruises were set to dock at the port up to April 2015, Yung said.
The government went ahead with building the terminal after failing to find a suitable candidate to spearhead the project. It is scheduled to open on June 12 as it receives the first liner, the Mariner of the Seas, which carries about 5,000 passengers and crew.
Meanwhile, the Tourism Board is promoting the Hong Kong Cultural Celebrations - 10 of the main festivals that happen each year.
Mason Hung Chung-hing, director of event and product development, said the celebration, now in its fourth year, was aimed at encouraging tourists to use the board's event guide to organise, on their own, visits to some the city's key attractions and events, such as the Cheung Chau bun festival and Buddha's Birthday.
As part of the promotion, tourists will be offered free ferry rides from Central or Kowloon to Cheung Chau on May 17 to enjoy the bun festival. Up to 170 tourists can register for the free rides.
By Dennis Chong and Jolie Ho, South China Morning Post
For more cruise news & articles go to http://www.cruisecrazies.com/index.html
Re-posted on CruiseCrazies.com - Cruise News, Articles, Forums, Packing List, Ship Tracker, and more