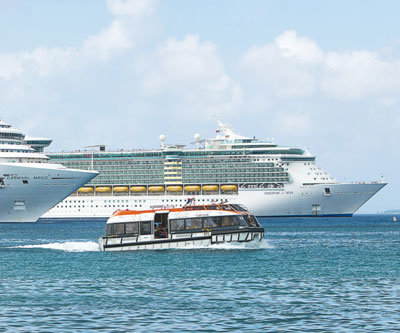 Changes to the Cayman Islands Gambling Law made two years ago to encourage cruise ships to register here, in the same way yachts or merchant marine ships do, have not accomplished their stated purpose.
"[Cruise ship registrations] are a market that we can't enter because Cayman legislation doesn't allow one simple thing," Maritime Authority Chief Executive Officer Joel Walton told the Legislative Assembly's Public Accounts Committee Friday. "We fixed the Gambling Law, but we haven't been able to fix the Marriage Law yet."
While the authority would like to get into the business of registering cruise ships as well, Mr. Walton told the Cayman Compass Friday that cruise lines will not do it if they cannot host weddings on board the ship – a popular offering for cruise customers.
Mr. Walton told committee members that while the Maritime Authority earns most of its money from regulatory inspections of Cayman-registered vessels, some money is earned each year via ship registration, mostly corporate and individually owned yachts, at present.
Marine vessels which register in the Cayman Islands fly Cayman's red, sea-going flag and must adhere to relevant local legislation. In the case of the Marriage Law, cruise ships would currently be required to have a Cayman-licensed marriage officer aboard to officiate the ceremony if the ship was registered in Cayman.
It is similar to the issue that arose with the Gambling Law a few years ago. Gambling is illegal in Cayman and cruise ships are not allowed to permit gambling while they are within Caymanian territorial waters.
However, the changes made in 2015 to the Gambling Law permitted cruise ships registered in Cayman to allow gaming while sailing in international waters. According to then-government Minister Wayne Panton: "The law allows gambling if they are 12 miles out to sea and on an international voyage. They have to be going to an overseas port. The aim is solely to facilitate the shipping registry in marketing its services to cruise lines."
Mr. Walton said the Maritime Authority has been seeking a similar type of change to the Marriage Law, allowing non-Cayman licensed chaplains to perform wedding ceremonies aboard Cayman-registered ships "for as long as I've been here." Mr. Walton has been the CEO of the Maritime Authority since it was created in 2004.
During the Public Accounts Committee hearing Friday, Mr. Walton responded to questions from lawmakers about whether he felt Cayman's shipping registry was still a "growth" business. Various committee members noted the Maritime Authority's travel and entertainment budget had shown recent significant increases and that the last two budgets  had been "break even" years for the historically profit-making authority.
Aside from cruise ships, Mr. Walton said there was room for growth in the merchant marine ship registration market and while yacht registrations have been in decline, he believed overall global trade, particularly in the underdeveloped Asian and African markets, would continue to grow.
"Unless we eliminate global trade, unless we as the Cayman flag mess up … we'll be fine for some time into the future," Mr. Walton said.
The Maritime Authority had 2,150 "units" or vessels registered in Cayman as of Dec. 31, Mr. Walton told the committee. Almost 80 percent of those were yachts, he said. Some 1,100 registered companies are involved with the ships, most of which are owned by corporate entities.
The Maritime Authority employs 47 people, 30 in Cayman, 15 in the U.K., one in Greece and one in the U.S. It also works with another 31 contractors around the globe including at locations in the Netherlands, Japan, Singapore, Panama, China and Brazil, Mr. Walton said. Ninety-one percent of the authority's full-time employees are Caymanian, he said.
By Brent Fuller, Cayman Compass
Re-posted on CruiseCrazies.com - Cruise News, Articles, Forums, Packing List, Ship Tracker, and more
For more cruise news and articles go to https://www.cruisecrazies.com