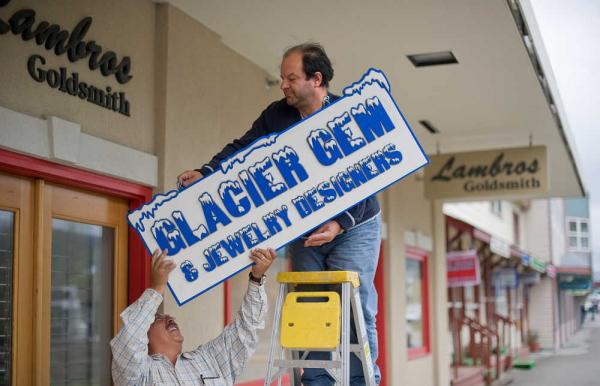 The summer cruise season begins today with the arrival of the Carnival Spirit at 2 p.m., kicking off a summer cruise season expected to be solid, if not spectacular.
Despite the industry's travails elsewhere, the cruise industry is expecting to do well in Alaska, cruise officials say.
Lines with exposure to Europe have been hit with a one-two punch with that continent's economic problems, compounded by the Costa Concordia disaster in Italy earlier this year.
In that case, the Carnival Corp. vessel ran aground and capsized, killing at least 32 of the more than 4,000 on board.
That's scared off some cruise customers, especially first-timers, Carnival officials said. Despite that, bookings in Alaska appear to be going well, they've been telling Wall Street. In addition to the Costa Cruise Line, Carnival also owns Princess Cruises and Holland America Line, two of the top lines in Alaska.
Those lines' business in North America has been surprisingly good, said Howard Frank, Carnival's chief operating officer. He described early bookings for the Alaska market as "not spectacular" but "pretty consistent and solid" in discussions with industry analysts.
The company, which sets cruise ship schedules well in advance, had already slightly increased Alaska capacity this summer. The pricing they're getting remains good, executives said. It is up slightly so far, while some other itineraries are down, they said.
Some of Alaska's gains may come at the expense of Europe, Frank said. "People are doing more Alaska cruises than Europe cruises because of the cost of Europe cruises going up," he said.
"Alaska seems to be doing OK," despite problems elsewhere, he said. Royal Caribbean Cruises, the second-largest line, said it was doing as well or better.
"For the summer season, or Alaska product, where we are once again operating three ships, is performing well," said Dan Hanrahan, president and CEO of Celebrity Cruises, a Royal Caribbean subsidiary.
Where the improving economy may be helping the cruise industry is not just in increased ticket prices, but also in expected increases in onboard and tour spending, Royal Caribbean executives said.
Alaska Cruise Association President John Binkley said the businesses in Alaska that depend on cruise visitors are expecting to see the start of a turnaround this year, with visitor numbers climbing towards 1 million.
That extra spending is being seen in the Interior, where more cruise passengers are already booking extended tours though the state after their cruises end, he said. While the oil pipeline funds much of the state, Binkley said Alaska's tourist businesses see the cruise ships doing the same for them. "The cruise ships are literally a pipeline to our great state, the Cruise Alaska pipeline," he said.
The excitement for those in the industry with today's ship arrival means that they've survived another long winter, he said.
Friday, another ship will arrive. The Volendam is also an afternoon arrival. There are no ships in Juneau Saturday or Monday, then the next day without a cruise ship is in mid-September, according to Cruise Line Agencies of Alaska. Most days will have two or more ships.
By Pat Forgey, Juneau Empire