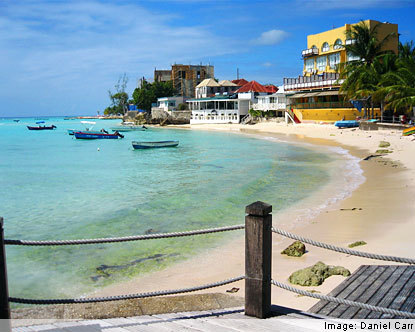 (Barbados Nation) Government is on the verge of constructing a massive cruise facility to accommodate some of the world's biggest ships, while reclaiming 15 acres of land from the sea off Trevor's Way in Bridgetown for the ambitious project.
Plans for the ultra-modern Sugar Point Cruise Facility, which will be constructed in two phases – the first costing $300 million – were unveiled yesterday during a ceremony at Hilton Barbados.
Minister of International Business and International Transport George Hutson told the audience that included officials of Barbados Port Inc., Royal Caribbean Cruise Lines (RCCL), Barbados Cruise Terminal and the Barbados Tourism Authority that phase one would include the construction of two cruise piers, arrival and departure facilities, a major retail area and parking facilities, as well as underground water and electrical installations.
The completed facility, themed around Barbados' culture of sugar and rum, would incorporate the Bridgetown Fisheries Complex and the old abattoir, RCCL executives pointed out.
By Stabroek Editor, Barbados Nation