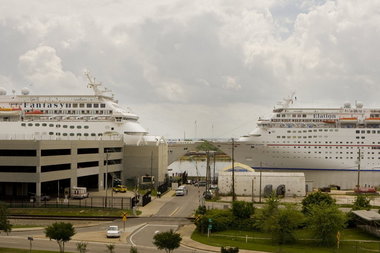 A cruise line is considering offering intermittent departures from Mobile's Alabama Cruise Terminal, and tourism officials contend a decision could be made before the close of 2013.
"There has been a cruise company that has asked us for a proposal to consider some test cruises from Mobile," said David Randel, president and chief executive officer of the Mobile Bay Convention and Visitors Bureau.
"I think we're going to hear something – at least if they accept our proposal or continue to negotiate – in the next couple of months," he said.
Randel serves on the city's task force to help resurrect Mobile's cruise traffic since Carnival Cruise Lines exited the market in October 2011. AL.com/Press-Register confirmed Thursday an unnamed cruise line has requested more specific details about Mobile's tourism patterns, drive-time statistics, the city's historical relationship with Carnival and technical details regarding the now-vacant Alabama Cruise Terminal.
Randel, who joined Mayor Sam Jones and a Mobile contingent in early June on a Miami trip to court a permanent cruise ship, said the current negotiations stem from talks that took place while in Florida.
"We provided a proposal to (this company) which they thought exceeded their expectations, and I believe this is a positive outcome from those visits we had," Randel said, adding, "The positive news is that they came to us and said, 'We heard you loud and clear,' and they see the future of Mobile being a very vibrant city."
Although city officials are not identifying the company considering adding Mobile service, the only three cruise lines with ships in their fleet that the Port of Mobile can accommodate based on size are Norwegian Cruise Line, Royal Caribbean Cruises and – yes – Carnival.
Specifically, Randel said the company in question made contact after hearing the city's pitch in Miami to say while it is, in fact, interested, it is not yet ready "to take that major step."
"What they're looking at is the possibility of taking this baby step before considering something bigger, but we're talking about a company that sells cruises out as far as a year-and-a-half, and they're extremely excited about the future of Mobile," Randel said.
By Kelli Dugan, AL.com
For more cruise news & articles go to http://www.cruisecrazies.com/index.html
Re-posted on CruiseCrazies.com - Cruise News, Articles, Forums, Packing List, Ship Tracker, and more