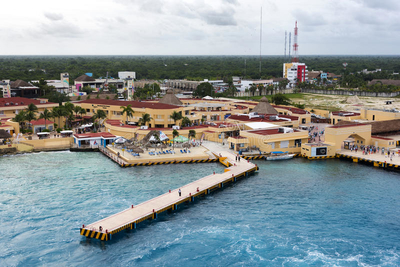 Cruise calls to Cozumel are on the rise, and so is interest in a potential new cruise ship dock.
More than three million cruise passengers visited the island in the first three quarters of 2018, according to the Integral Port Administration of Quintana Roo.
According to a report in Riviera Maya News, there is talk about adding a fourth cruise pier to Cozumel. Mexico's largest island is well-known for its ecologically-sensitive marine environment and proximity to coral reefs. So, adding any additional piers is not going to be an easy task.
According to published reports, two environmental groups are analyzing the environmental impact that a fourth cruise terminal might have. The groups, Cielo Tierra y Mar (Sky, Land and Sea) and Conservation, Research and Environmental Management of Cozumel, have expressed strong concerns.
First of all, the groups are asking that the island's population be consulted about any cruise terminal project. And, they're advocating for full disclosure of the economic, social and environmental impacts of a fourth pier, as well as its effects on waste generation, transportation and public services.
Guadalupe Alvarez from Cielo, Tierra y Mar, cautioned that the economic benefits of the project would redound primarily to the cruise lines. Noemí Martín from Conservation, Research and Environmental Management of Cozumel said that Disney Cruise Line is the entity that has thus far expressed interest in the new dock. But, there are very few days that ships can't dock because all of the existing docks are full, she noted.
Notably, an earlier plan to build a fourth dock was rejected by local residents in June of 2016. At that time, public sentiment was that an additional dock was unnecessary. The dock was to be located in front of the Marina Banco Playa (Puerto de Abrigo) on the north side of the island.
By Ana Figueroa, TravelPulse
Re-posted on CruiseCrazies.com - Cruise News, Articles, Forums, Packing List, Ship Tracker, and more
For more cruise news and articles go to https://www.cruisecrazies.com