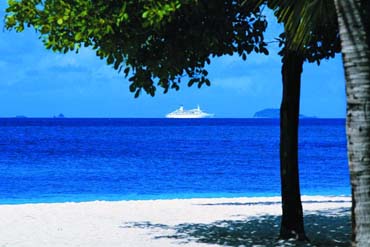 SANTO DOMINGO, Dominican Republic — Carnival Corporation said Tuesday that it is building a $65 million cruise ship center in the Dominican Republic to draw ships to the Puerto Plata region for the first time in nearly 30 years.
The Amber Cove Cruise Center at Bay of Maimon is scheduled to open in 2014 and is expected to accommodate as many as 8,000 cruise ship passengers daily.
The center is being built on 30 acres (12 hectares) of waterfront property with help from local shipping company Grupo B&R. It will feature a marketplace, restaurants, bars and a water attraction, Carnival said.
More than 350,000 cruise ship passengers visited the Dominican Republic last year, a 1 percent drop from the previous year.
Also on Tuesday, officials in Puerto Rico announced that the U.S. Caribbean territory would be the home port for a Royal Caribbean cruise ship next year.
The Jewel of the Seas is slated to make 25 departures out of San Juan starting in May 2013, said Economic Development Secretary Jose Perez-Riera. The ship is expected to generate $8 million in revenues and attract more than 60,000 tourists.
He said Puerto Rico has welcomed three other new ships in the past year, the Celebrity Silhouette, the Azamara Journey and the MSC Poesia, as part of a new incentives package.
Puerto Rico saw 972,000 cruise ship passengers last year, an 8 percent drop compared with the previous year.
By The Associated Press