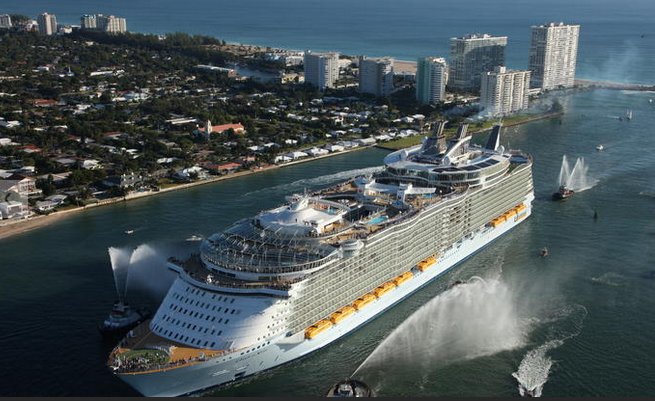 Oasis of the Seas, one of the world's two largest cruise ships, is leaving Port Everglades, but a similar-sized ship is on the way.
The ships are the largest in the world, at 225,000 gross tons. The line is building two more Oasis-class ships, and the newest, the Harmony of the Seas, will take Oasis' place at Port Everglades alongside Allure of the Seas.
"Harmony of the Seas is music to my ears," Port Everglades Director and Chief Executive Steve Cernak said in an email Thursday. "It is always exciting to get a new cruise ship arriving to Port Everglades, especially the newest largest ship in the world."
At double-occupancy, the 2,747-cabin Harmony of the Seas can accommodate 5,479 passengers. It has 41 more cabins that its older sisters Oasis and Allure.
The new 16-deck mega-cruise ship is under construction at the STX France shipyards in Saint Nazaire, France, and is expected to debut in April 2016.
"It's a testament to the hardwork that Port Everglades continues to do," Stewart Chiron, president and CEO of Miami-based industry website CruiseGuy.com, said of Harmony's deployment to Fort Lauderdale. "It's very exciting and definitely sets the stage going forward."
Port Canaveral will lose its current largest ship, the Freedom of the Seas, which can accommodate 3,634 passengers to make way for the Oasis, which holds 5,400 passengers at double capacity.
Freedom will make its way to Port Everglades after summer 2016 to continue eastern and western Caribbean itineraries. The line also will replace the Enchantment of the Seas with the Rhapsody of the Seas, both of which are similar sized vessels built in 1997. The Rhapsody will take over Enchantment's 3- and 4-night Bahamas cruises from the port.
Currently, only three ports on the eastern seaboard are big enough to support Oasis-class ships – Everglades, Port Canaveral and PortMiami, and all three are the only ports that can support seven-night eastern and western Caribbean itineraries.
Both Everglades and Miami have more ships on a year-round basis. Port Canaveral currently is home to nine ships including three Royal Caribbean vessels, three from Carnival and three from Disney. Norwegian Cruise Line will also be returning to the port in November. Disney Cruise Line, though, has been the only line to use the port as its newest ships' first home.
By Richard Tribou and Arlene Satchell, Sun-Sentinel
For more cruise news & articles go to http://www.cruisecrazies.com/index.html
Re-posted on CruiseCrazies.com - Cruise News, Articles, Forums, Packing List, Ship Tracker, and more