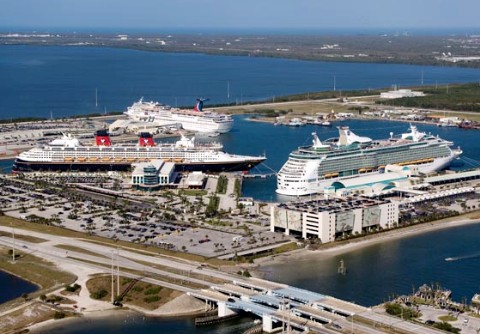 Port Canaveral is likely to become home to two new cruise ships, if port commissioners approve plans to build a new cruise terminal, port Chief Executive Officer John Walsh said Thursday.
That, he added, could mean a half-billion-dollar annual boost to the local economy.
Walsh made his comments during a workshop focusing on plans to build a new $80 million cruise terminal and parking garage complex just east of the Cove restaurant area on the south side of the port. Port commissioners are likely to approve the project next month.
Walsh said he met last week in Miami with officials of three major cruise lines, and hopes to finalize deals with two of them to base large ships at the new terminal, which the port would designate as Cruise Terminal 1. Each new cruise ship based at Port Canaveral would bring $250 million to the local economy, and $5 million to $7 million to the port in docking and wharfage fees, Walsh said.
Because of the confidential nature of the negotiations and potential impact of ship moves on other cruise ports, Walsh said he could not publicly discuss which cruise lines or ships are involved, or how big the ships are.
But cruise lines that are based in the Miami area include Carnival, Norwegian and Royal Caribbean, all of which already have ships that either are based at Port Canaveral or make port-of-call stops there.
Walsh said he hopes to announce the deals before the end of this year.
Walsh made a detailed case to port commissioners for building the new terminal in the Cove area, and relocating recreation boat ramps from that site to one just west of Jetty Park. He said those moves also dovetail with plans to expand the port's cargo business.
Ten of the 14 members of the public who spoke during the three-hour workshop supported the plan. They included two of Walsh's predecessors (Malcolm McLouth and Chuck Rowland), three hotel executives (Bob Baugher, Tom Hermansen and Tom Williamson), and representatives of some port businesses. They cited the positives for the economy and the community from the added cruise passengers coming to the port.
"Thank God we have this problem — where to put the cruise ships," Baugher said, noting the economic boost the cruise industry brings to beachside hotels, restaurants and retailers.
But there were some opponents as well, including Joe Penovich, the owner of Grills Seafood Deck & Tiki Bar, the restaurant closest to the proposed terminal site. Penovich warned that putting a cruise terminal in the Cove area "is dangerous" and could trigger new security requirements that could negatively affect public access to his business.
Jim Dubea, the port's deputy executive director of government and strategic partnerships, said he has received indications from the U.S. Coast Guard that security issues related to the new cruise terminal could be worked out without affecting Cove businesses.
Port cruise consultant Luis Ajamil of Bermello Ajamil & Partners told port commissioners that current trends indicate that Port Canaveral's cruise business will more than double by 2043, and the port will need four new cruise terminals to handle the increased business. That includes two cruise terminals in the next few years, a third one in 2021 and a fourth one in 2039.
Walsh, though, noted, that Port Canaveral also must protect its current cruise business.
"We can't be smug as a community" to think cruise ships can't relocate to other ports, Walsh said. "They are resort hotels tied up by ropes," with competition intense among cruise ports seeking more ships.
Port Canaveral is in three-way battle with the Port of Miami and Port Everglades near Fort Lauderdale to be the world's busiest cruise port based on passenger volume.
Port commissioners took no vote Thursday, but are prepared to act at their next regular meeting on Nov. 6.
"I'm comfortable with this process," Port Authority Chairman Tom Weinberg said. "On Nov. 6, I'm going to vote to move it forward."
By Dave Berman, Florida Today
For more cruise news & articles go to http://www.cruisecrazies.com/index.html
Re-posted on CruiseCrazies.com - Cruise News, Articles, Forums, Packing List, Ship Tracker, and more