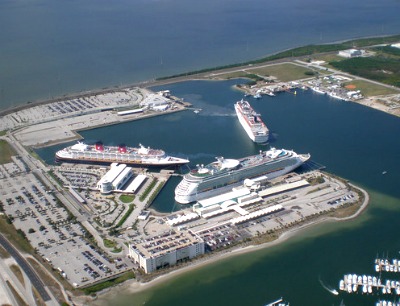 John Walsh, the interim chief executive officer of Port Canaveral, says he would like to attract the world's largest cruise ships to the port. But, he added, he may need a larger cruise terminal first.
A lot bigger.
Walsh said Port Canaveral could use a terminal that is 150,000 square feet to accommodate the cruise ships of the future that will be 1,200 to 1,300 feet long and have double-occupancy capacity of 4,000 to 5,000 passengers
The would be more than a third larger than the port's biggest current terminal, which has been open less than a year.
Walsh said he will ask the Canaveral Port Authority Board of Commissioners on Wednesday to authorize the hiring of a consultant to help devise a cruise master plan for the port. Walsh also will meet with representatives of the major cruise lines to gauge their plans for Port Canaveral.
Those could be the initial steps toward getting approval to build a new cruise terminal.
Port Canaveral in August completed construction of the 109,000-square-foot Cruise Terminal 6 and parking garage, a combined $64 million project. The terminal — the port's largest to date — is used primarily by Carnival Cruise Lines. Walsh said it can handle cruise ships up to 1,200 feet long.
"It's the classic chicken and the egg," Walsh said, referring to the need for Port Canaveral to commit to building a larger terminal before a cruise line might consider basing one of its megaships of the future there. "The whole goal is to bring more business to Brevard County."
Port Canaveral is the world's second-busiest cruise port, and that business is growing quickly. Mike Meekins, the port's senior director for cruise and port operations, said passenger counts on cruise ships based at Port Canaveral have risen more than 38 percent in the last five years.
The increasing size of ships has meant that older terminals are capable of handling only a shrinking portion of cruise vessels.
When Cruise Terminal 5 was built in 1992, the largest cruise ships were 650 to 800 feet long, Walsh said. But, now, the terminal cannot handle most of cruise ships sailing from the East Coast.
That fact led a port committee Thursday to propose forgoing previously approved upgrades to the terminal's parking facility.
Walsh said Terminal 5 is not scheduled to be used by a Port Canaveral-based ship after Carnival redeploys the Ecstasy.
Terminal 5, however, will continue to be used by ships making port-of-call stops at Port Canaveral, as such ships do not have the logistical complication of baggage transfer, which ships that have Port Canaveral as a starting and final destination must deal with.
"Throwing money at the problem doesn't necessary solve it in the long run," Meekins said, as he and Walsh recommended that the port save the money that would be used to upgrade ground transportation facilities at the adjacent Terminals 5 and 6 to help fund a new cruise terminal.
Walsh said it is too soon to estimate how much a new terminal would cost or when it could be completed, if the project gets the go-ahead from the port commissioners.
He said the port has several potential sites where the terminal could be built.
By Dave Berman, Florida Today
For more cruise news & articles go to http://www.cruisecrazies.com/index.html
Re-posted on CruiseCrazies.com - Cruise News, Articles, Forums, Packing List, Ship Tracker, and more